Dr. Peter Tun passed away in UK on April 13, 2020.
He was the first medical doctor in the UK to succumb to COVID-19.
Sadly, it was due to lack of PPE (which he earnestly requested at the outbreak of COVID-19).
A year has passed since his demise.
Selected people (preferably the elderly) around the world have received some type of COVID-19 vaccination.
Some variants have also been discovered and Tests are conducted to see if the current vaccines are effective against them.
The news / article was first posted on April 15, 2020 and was updated almost daily till the end of May, 2020.
The posts are (mostly) in Reverse Chronological Order.

Contributors :
Peter's family members and relatives
Peter's mentors
Peter's friends
P-E-T-E-R
P Peter (NHS Hero) paid a high price for misguided policies and guidelines
E Envisioned retirement to spend quality time with his extended family
T Talented Doctor, Gourmet Chef, Sketch and Oil Painter — to name a few
E Educated and/or entertained aspiring medical specialists far and near
R Real irreparable loss to patients, friends, family and community
P Pote Pote Kyee (see "Cho Cho Hlaing")
E Enthusiastic learner and practitioner (see "Aung Jee")
T Took care of parents of relatives, patients and friends (see "Min Ko")
E Ever smiling and helpful (see "Ye Myint")
R Rural doctor with a huge heart (see "Vicky Bowman)
May 22, 2020
Samvegha / Sense of Urgency
It is sad to lose a loved one. It is unbearable to lose two or more.
U Tin U's Family
U Tin U lost three family members within six months.
Dr. Daw Kyi Nyunt (Cherry) : spouse
passed away a few months before her 89th birthday
Dr. Khin Tun (Peter, UK) : elder son
passed away on April 13, 2020 from COVID-19 infection
U Tin Tun : son-in-law / spouse of Aye Aye Khin
passed away in Yangon on May 22, 2020
Ye Lay
Ye Lay (Ye Aung, Will Tun) has started archiving the posts of his father Peter (Khin Tun).
Since there are many posts, Ye Lay is organizing them into a structured set of folders.
Ye Lay and Min Ko planted two trees in memory of their Phwa Phwa (Cherry) and their PePe (Peter).
May 21, 2020
Peter Tun award to be given by Neurology Academy
Dr. Ba Han (Texas) wrote :
I still feel strongly we lost a good relative and a friend for lack of PPE in UK!!!! I would understand if this happened in a poor country.
Dr. Ruby (Peter's aunt from Germany) wrote:
Minko and Ye Lay, The recognition of your father's outstanding achievements in medicine and the high evaluation of his qualities and character as well as the impression his personality made on people whom he worked with and shared his life will be remembered ……this award which will be named after him can be no consolation for your great loss,but take pride in the fact that he will always be present and honoured.
We are glad to share the comforting news.
Professor Aye Maung Han
Retired as Rector of UM 1.
He was a Professor of Paediatrics before taking Rector post.
Remembering Peter Khin Tun
(revised on May 22, 2020)
Peter gave his life while fighting against Covid-19 a highly infectious and most deadly virus the world has ever encountered. He died as a Hero for not just being in the front line in this battle but also for his courage to speak out against the Commanders in the NHS who recklessly place the lives of his colleagues at high risks. Everyone knew Peter as soft spoken and humble but when it needs be, he's bold and straightforward.
I have known Peter since he was a final year Medical student in 1980. He may not be the top student in his class but he's highly intelligent and amicable. His patients and colleagues loved him dearly because of his empathy, compassion and unwavering devotion. I could still remember about a patient when he was a House Officer in my Ward at Yangon Children's Hospital. He was taking responsibility of monitoring and treating an extremely sick child with very severe pneumonia. He was beside this patient the whole time, reporting the progress and discussing with me how he could provide the best possible treatment. Thanks to Peter's diligence the patient recovered fully and went home happily.
He has a special charisma that could motivate his juniors to work . His sense of humor is also a stress reliever for many around him. His generosity and kindness has helped many during their difficult times.
He had been such a fabulous person and will be remembered him for his MeAa and Setana for everyone. Both Peter and Win Mar are fond of us and we have a deep affec0on for each other.. They always make sure to meet us whenever we visit UK .When he was very busy the least he would do was to meet us at the Heathrow Airport. Our times together with them in London, Reading, Southend-on-Sea and Northampton were happy memories for us. We couldn't forget the first 0me we visited his home in Reading. They made us stay in their master bedroom while he and Win Mar spent the night in the living room. When we woke up in the morning, the breakfast table was brimming with delicacies which were specially prepared by themselves. Peter was well known for his fondness in gourmet food. He wanted to treat others with all the good things he appreciates.

He has been such a fabulous person and will be remembered him for his Metta and Setana for everyone. He's like a brother to me whom I find him to be honest, trustworthy and reliable. Taking all these virtues together, he's matchless and exceptional amongst his peers.
His Sila, Samadhi and Pyinnya ( from meditation) will surely attribute to earn his place in a higher realm. Peter's unexpected demise has created an emptiness not only for his family but also to people like us who has great affection for him.
Good Friends, are hard to find, harder to leave and impossible to forget.
Aye Maung Han , Ma Thiri and Family
May 19, 2020
Win Mar
During our visit to Reading, UK in September 2017, Win Mar and Peter hosted us.
Since Peter was working at the NHS hospital and at a private clinic, he would show us around late in the evening (e.g. River Thames). On the week end Peter patiently drove us to Ogmore-by-the-sea in Wales to visit Maung Maung Kyi and Khin May Than.
Win Mar would be our guide during the week days. We would take bus and train to see Windsor Castle, Buckingham Palace and selected tourist attractions. Since she had been to those places many times, she would patiently wait for us near the entrance / exit gate. As seniors, we received discount on the bus and train fares.
Win Mar keeps fit by massaging her feet in a bucket full of salt. She also climbs up and down the stairs to do her chores (cooking, washing, drying clothes in the backyard).
Like Peter, Win Mar is an outstanding Chef. Unlike Peter, Win Mar is selective in eating food. She prefers Burmese specialties over Chinese, Indian and British food (with the exception of "Fish and Chips" sold at the shop owned by Peter's assistant / doctor).
She would tell stories to my spouse.
When she was working as a teacher in Hlegu, Peter would come over with a food container. Guess what. Peter had made mashed potatoes! Peter did not know then that Win Mar did not have appetite for non-Burmese (especially British) food.
Some time later, they regained contact by chance at the Chauk Htutt Yone (6-storey Government office). Peter would ask her for a "date" where he would hand over a 7-page "Yee Zar Sar". Win Mar appreciated Peter's "Open Book" approach (which listed his puppy love and current / potential suitors). Peter agreed to settle in Mezaligone.
In late March, Peter told me that COVID-19 had hit UK, but Reading did not have many cases. Nevertheless, he showered a day (before and after work) as a precaution. He treasured Win Mar's health.
Then, we heard some bad news. Five of Peter's patients have been tested positive for COVID-19. Peter was asked to "self isolate" at his home. Per his brother, sister and nieces, Peter felt confident that he would turn out victorious.
After a week, Peter's health declined and was admitted to ICU. A few days later, Win Mar had fever and cough. Min Ko and Ye Lay (who could not visit the house due to the "self-isolation") called the ambulance. The medics checked Win Mar and suggested to wait a few days.
When Peter passed away, Win Mar was taken to the hospital. Her health and appetite returned. Her request was for "Fish and Chips". I was indeed a good sign that she still have a good memory. Her friends (e.g. Ma Theingi) cooked Burmese meals.
Win Mar was discharged on April 29, 2020 and was able to attend the service for Peter on April 30, 2020. She spoke with Cho Cho Hlaing over the video conference, "Peter was born on a Monday and passed away on a Monday. He must have run out of his life span. KAN KONE LOH SONE THWAR DA."
Win Mar is now is close company of Ye Lay and Min Ko (who still have lease for a flat / apartment 5 minutes away).

They offered "One Month" Soon Kyway to Birmingham Sayadaw U Ottara Nyana.
They also celebrated Ye Lay's birthday a few days later.
May 18, 2020
Invitation To Engagement Dinner
at Winner Inn
I would like to invite you for Min Ko & Prudence Waterman's engagement dinner on 13th January 2018 (Saturday) from 6-8 pm at Winner Inn. Please note in your diary.
Best wishes,
Peter & Win Mar
Memories (in Photo Albums and Videos)
Min Ko interviewing his grandfather
Ye Lay brought "Medicine" (Scotch) for his grandfather
U Tin U's 90th Birthday
Ma Cherry's 87th and 88th Birthdays
Ma Cherry (a few months before her 89th Birthday)
May 17, 2020
Peter and his mentor Dr. TOKM
Dr. Thane Oke Kyaw Myint led his team of doctors including Peter and Pe Thet Khin to collect data for Maternal / Peri-natal project. When the team arrived at the food sjops / stalls, Peter would be welcomed as Sayagyi because of his stature. Peter would say "Our saya Dr. TOKM is over there".
Peter and his friends funded the book "Tribute to Dr Thane Oke Kyaw Myint" to celebrate their saya's 70th birthday.
Peter and his Grandma
The two loved each other a lot, and may even have telepathic connections. Cho Cho Hlaing was surprised to see Peter walk in front of their house every time her mother had new good food.
Chubby Tubby was a cartoon character. Ma Cho would fondly call Peter as Burmese Tubby or Pote Pote Kyee.
Peter thanked his grandma to let him and his friends eat and study for the MRCP prep examination.
Even after he moved to UK, Peter kept in touch with his grandma. One day, Peter was worried to learn that his grandma had lost her appetite. Both had good appetites. Sadly, his grandma passed away a week later.
Peter and his Mom
Aye Aye Khin remembers that Peter spent a lot of time talking to his mom (Ma Cherry). Peter and his mom have their birthdays in January. They would do dana together. Peter would come back from UK in January to celebrate his mom's birthday.
Peter took us to Chan Myei Yeiktha, where he offered requisites to U Thawbita for his mom's birthday.
Whenever Ma Cherry was not feeling well (e.g. feeling moody), Aye Aye Khin would ask Peter to call. Ma Cherry's eyes will shine brightly.
During my early visits to Yangon, Ma Cherry will tell me about comparative religion and the books that she had read. She attended Catholic Convent schools, but she knew about the Buddhist Teachings and the dhamma practice of the sayadaws.
Her memory declined during my later visits. She passed away late last year — a couple of months before her 89th birthday.
Peter inherited Ma Cherry's expertise for Gourmet Food. Ma Cherry was a Nutrition Expert at BMRI and had her post graduate diploma from UK. Peter shared the recipes with relatives and friends. Hope Minko and Ye Lay can archive his Facebook Pages and archive Peter's recipes.
May 16, 2020
"Farewell to Peter" by Dr. Daw Win Hlaing (Ruby, Peter's paternal aunt)
Obituary by Will Tun (Ye Aung, Ye Lay, Peter's younger son)
"Uncle Peter : our role model" by Thin Thiri Tun (Peter's niece)
Dr. Daw Win Hlaing (Ruby), aunt
My children were very young on their first visit to the family and they came home full of praise for their Peter Ko who was their super hero. Just one more aspect of Peter's talents in association with people of all walks of life.
I met Peter very much later as I was banned for 28 years to return to Burma. When I met him in London I told him how important it is to wear comfortable shoes and bought him his first pair of shoes from Clark's,which he told me lasted 3 years.
In the following years we visited Peter and family often.

On many occasions we met at family gatherings in Yangon, the last to celebrate his father's 90th birthday in August 2019. Not only on this his last visit but in all the previous years Peter's devotion to his mother was unconditional. It impressed me enormously that he would prepare breakfast for his mother at 6 in the morning … and it was a cooked breakfast! He took great pleasure in watching his mother eat with appetite and gaining strength. That was Peter,who loved his mother beyond words.

Peter was good at organising too. We shared a memorable visit to the London Chelsea Flower show in 2018 at the invitation of Kim and Dave. At my request Peter organised and dealt with all the formalities which was required. He hit a jack pot as he managed to get free entrance for Kim and Dave as attendants to two wheelchair users, because I needed one and he decided also that he needed one too. He used actually to wheel around his backpack etc. So, we paid only for two for four!

On that trip, WinMar and Peter drove me to my friend In Nayland. I invited them to stay at an Inn,which Peter thoroughly enjoyed,breakfasting in the garden reading a newspaper, etc.
On bidding farewell to us, WinMar and Peter paid respects ..Kadaw de …not only to me but to my German friend Ursula,who remembers them fondly.They left a joyous impression.
The last chapter ends with our unforgettable trip to New Zealand to celebrate Prudence and Minko's wedding on 15th. February 2020. Peter invited me to stay with them at the luxurious apartment at the Trinity Wharf Hotel, Tauranga,which Tin KyiWin had rented but could not make the trip. It was a home away from home as Peter thoroughly enjoyed the facilities. On the morning of our departure Peter prepared mushroom omelet as usual and ate my share, which I kindly refused, with relish. I think he just enjoyed food always.
Peter brought the thread and needles needed to make the garland for the bridal pair from Reading and I helped him to make the garland,which he patiently threaded. So that was his personal touch for the ceremony.
I regret that Peter never found the time to visit us in Germany. There was so much I wanted to show him and share. He would have appreciated my collection of antique books on Burma. I even thought of giving him the books one day.

Peter gave me one of his water colour paintings.

Peter as we all know was a most devoted,self sacrificing son,a loving and caring husband and father and a man who practised what he believed … above all Metta, loving kindness.
Peter, a man of kaleidescopic characters who enriched the lives of all the people who were fortunate to meet him.
A gifted healer and a prophet. His prophetic words were not heard
and heeded,which tragically costed him his life. A great great loss. His life was not in vain.
______________________________________________________________________________________
The following Obituary appeared in the Guardian (UK Newspaper) on May 15, 2020.
Dr Peter Tun obituary
Will Tun (Ye Lay)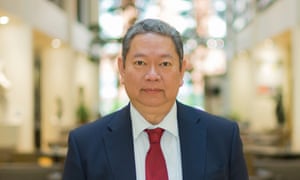 Peter Tun moved to Britain in 1994 from Burma, where he had worked as a GP in rural villages
My father, Dr Peter Tun, who has died aged 62 of Covid-19, travelled in 1994 from his native Burma (now Myanmar) to Britain to work as a doctor in the NHS. His career took him into the training of doctors, and eventually earned him the role of associate postgraduate dean (2012-16) at Oxford Deanery training centre, which prepares medical graduates for their first NHS jobs.
Much loved by his colleagues, he had expertise in a wide range of areas, from diseases related to stroke, brain and spinal injuries to muscle spasticity management, the benefits of medicinal marijuana, nutritional rehabilitation and mindfulness therapy.
Peter was born in Yangon, in Burma (now Myanmar), the eldest son of U Tin U and Cheery Tin Gyi. He won a scholarship to study medicine at the University of Yangon and as a young freshman enjoyed participating in shot put and discus-throwing tournaments. After graduating in 1981, he started as a research medical officer for a WHO-sponsored project on maternal and child healthcare. From 1985 to 1994 he worked as a GP across the villages of the Ayeyarwady Delta.
He had fond memories of riding around in a jeep through many villages, helping to heal the sick and asking his patients only to pay what they could afford. He was an advocate for providing education as a tool to transform the lives of the communities he served.
During this time he met his future wife, Daw Win Mar. They would go on to have two sons, Minko (my brother Michael) and Ye Aung (me). As a testament to his tenacity, Peter decided to build a new home from the ground up for his family. That house still stands with a back garden full of banana trees beneath a hot tropical sun.
Peter brought his family to the UK in 1994. We lived in Pontefract, West Yorkshire, before moving to London, where in 1997 Peter became a member of the Royal College of Physicians and the British Society of Rehabilitation Medicine.
Our family finally settled in Reading, in a home filled with joy. Peter loved gardening, cooking, barbecues, sharing recipes, the Beatles and painting watercolours of pagodas and scenes from Burma.
A devout Buddhist who enjoyed meditation, he had practised intensive Vipassana meditation under the Venerable Ashin Janakabhivamsa when he was a second-year medical student in Burma. He recalled those moments of spiritual practice as one of the most precious times of his life.
He is survived by Daw Win Mar and his children.
Thin Thiri Tun (Honey), niece
Uncle Peter was our role model — someone who we always admired and looked up to. He was knowledgeable, kind, passionate and helpful to everyone around him near and far.
My mother always valued uncle Peter's advices, memories and shared with us. Some of them are during his younger days in Vipassana meditation practice under the guidance of Chan Myay Sayadaw, Venerable U Janakabhivamsa. He went to meditation retreat to follow his friend but eventually he became deeply interested. He would go and find his teacher Sayadaw even at midnight when he had questions. Sayadaw praised later that he was one of the Yogi students who progressed very quickly. He also volunteered to carry very heavy items for building construction in the retreat compound. He managed to carry them easily with mindfulness.
He also had a very good memory. After listening once to a dhamma talk, he can explain it to others from beginning to end.
He told me that we don't have to wait for our free time to practice mindfulness. He mentioned that he was always practicing even in a few minutes while waiting for the lift to arrive. He said he also spent time to radiate loving kindness to living beings every day.
Uncle Peter was giving not only medical advices but also dhamma advices to us since my father fell ill. I have the deepest gratitude to uncle Peter for all the things.
Sayadaw U Ottara Nyana mentioned during one month remembrance offerings that Uncle Peter is definitely in a better life now. It is like leaving behind the clay pot and getting a golden pot. May he attain Nibbana.
May 15, 2020
"Details of my thesis" by Cho Cho Hlaing (Peter's paternal aunt)
"Condolences to Win Mar" by U Tin Htoon (Peter's paternal uncle)
Cho Cho Hlaing, aunt
The title of my thesis is "The cultural background of preparing and serving of Burmese Food"

There are 8 chapters starting with Dana, such as offering (Soon Laung De) to a row of SANGHAS, SoonKyway at home.
For each chapter Peter did a wonderful drawing, all together ten drawings which clearly express the text, "A Picture is Worth A Thoughtful Words". I gained Credit in my Final Exam and the Professor was very impressed with Peter's drawings.
U Tin Htoon, uncle
Dear Win Mar, Min Ko, Prudence & Ye Lay,

The sudden and unexpected passing away of your beloved husband and father Dr. Peter Khin Tun on April 13, 2020 sent a wave of grief throughout UK and the world.

Since then tributes have poured in from his Berkshire hospital colleagues and staff, relatives and friends around the world by way of emails, posting on Face Book etc. However, the most valuable and encouraging
words was from Oxford Sayadaw U Dhammasami.
Sayadaw U Dhammasami was in Yangon during that time and sent this addressed to Peter through one of his close devotee. He even instructed the monks at his Oxford monastery to perform Dana for Peter and to share
the good merits. Sayadaw also emaiedl to Min Ko and Ye Lay expressing his heartfelt sympathy.

Permit me to supplement Sayadaw's view about Peter. The Buddha said:

"By oneself is evil done, by oneself is one defiled,
By oneself is evil not done, by oneself is one purified.
Both defilement and purity depend on oneself.
No one is purified by another."
As you all know, the Buddha taught us "The Art of Living", or "A Way of Life." And Peter knew it very well since he was a teenager and he practiced accordingly, not only when praying and meditating but while at work or at
home. He discharged his profound duty of a parent as spelt out in the Siṅgālovāda Sutta (Sigālovāda Sutta). In this Sutta Buddha taught the moral conduct of different members of the society to achieve a peaceful
harmonious society. The Buddha described the duties of parents to their children as follows:
Restrain their children from evil
Encourage them to do good
Give them good education or skill for a profession
Arrange a suitable marriage and
Must hand over their inheritance to them at a proper time.
Likewise the five duties of children are:
Support parents in return (when they have income)
Manage affairs on their behalf
Maintain the tradition of the family
Make oneself worthy of the inheritance
Give alms on behalf of the departed parents
Although such Buddha's teaching provides human beings to have peace, harmony and happiness in this very life, the main essence is to achieve cessation of Dukkha (generally translated as "suffering" although it is far beyond that) by practicing the "Noble Eightfold Path." It consist of three parts of moral practice, three parts to
develop concentration and two parts to achieve wisdom. The practice is known as "Vipassana (Insight) Meditation." The benefits are – for the purification of mind, for the overcoming of sorrow and lamentation, for the complete destruction of pain and grief, for reaching the right path, for the attainment of Nibbana.
Now that you all have personally experienced the untimely loss of your husband and father, you know very well how difficult it is to overcome sorrow, lamentation, pain and grief. In order to help face the vicissitudes of life it is essential to learn and practice Vipassana meditation.

I strongly wish to recommend visiting the website – https://www.dhamma.org and find the meditation center that will be convenient for you, location and time wise. This group teaches Vipassana meditation in the tradition of Sayagyi U Ba Khin as taught by S.N. Goenka and his Assistant Teachers worldwide.

I have attached the pdf copy of the book "The Art of Living" by William Hart so that you will have a better understanding of their approach. The book was based on 10—Day Vipassana meditation courses conducted by S.N. Goenka and contain a story and Q & A at the end of every chapter.
In conclusion I wish to share with you the untimely losses in our family before Peter.
Our maternal side grandfather at the age of 43.
My father at the age of 60.
My 2nd brother's wife at the age of 56.
My 2nd sister's son at the age of 32.

I sincerely hope that this letter of mine will help bring some comfort and solace during these hard times.
Peter's Drawings for Cho Cho Hlaing's Thesis
Thesis for Diploma in German
In 1981, Cho Cho Hlaing studied for Diploma in German. A requirement was to submit a thesis. She chose to describe "The cultural background of preparing and serving of Burmese Food".

The thesis comprised of 8 chapters. The first chapter described Dana, such as offering (Soon Laung De) to a row of Sanghas (monks), and Soon Kyway at home.
For each chapter Peter (Khin Tun) did a wonderful drawing. There were altogether ten drawings which clearly express the text, "A Picture is Worth A Thoughtful Words".
Cho Cho Hlaing gained Credit in the Final Exam.

The Professor was very impressed with Peter's drawings.
Offering of Ah Yone Soon in the village
Food offered to monks at dusk by the villagers
Preparing for Soon kway in the village
Soon Kyway
Rice / Paddy fields
A hut in the Rice / Paddy field
The boys at the monastery having meal on Daunglan
Staple food from different parts of Burma
Burmese Htamin Waing
What shall I eat?
As Myanmar is located between two gastronomical countries (China and India) the boy was thinking and scratching his head thinking what he should eat.
The three specialties that are described in detail in the thesis
La Phet (Pickled Tea Leaves)
Htamane (Sticky Rice) and
Thingyan Htamin (Specially prepared for consuming during the Thingyan Water Festival).
May 14, 2020
"Ba Ba Peter" by Khin Sandy Tun (Peter's niece)
"Pote Pote Kyee" by Cho Cho Hlaing (Peter's paternal aunt)
Khin Sandy Tun, niece
Ba Ba Peter is a kind of person who was always willing to help other people's needs. He had all the powers of kindness, wisdom, knowledge, calmness and mindfulness.
He practised dhamma at Chan Myay Yeik Thar at his young age before going to college. He encouraged us to do dhamma in everyday life. He said "Why would we only have to do mindfulness during our last time when there is so much sufferings? We should practise mindfulness in good things too, like when enjoying good foods, etc. in daily livings".
He helped me with my studies saying "Learning is the life long process". He also said "Put yourself in the shoes of others when treating patients". He always appreciated me in taking care of Phwa Phwa and Phay Phay's health. He gave me mental support by praising the good things I have done.
Even though we are thousand miles apart, he is the one who you can call online anytime in case of emergency. He is the best human and best role model. He will surely be missed in our hearts deeply.
Cho Cho Hlaing, aunt
I became Peter's paternal aunt at the tender age of 10 yrs 1 month. The whole family was very happy. My father was elated to see his Clan being extended to the first son of his eldest son.
According to the Tradition, Peter received a family jewelry heirloom from his father U Tin U who received it as an infant as the first son of the eldest son of his paternal grandfather. Like his grandfather and father, Peter became the first son in the family.

His family resided at the house in the next compound with only the fence between our two houses. Since there was an adjoining gate, it was very easy for us to visit Peter very often. When he was young, Peter was fair had a very faint eyebrow. My mother noticed it and asked Peter's mother to draw with the stem of the beetle leaf when she is breastfeeding him to darken Peter's darker eyebrow. My mother did it for her nine children. Peter was brought to our house frequently and he loved to sleep in my mother's arms full of flesh. Both my parents were thrilled whenever Peter visited as a toddler and in later years.

Once when my mother was having only plain boiled rice (ဆန္ ျပုတ္) with Nga Yant Chauk Kyaw, pounded fried salted fish for breakfast she called Peter..He never refused and had his second breakfast with the grandmother. We gave him the nickname, Pote Pote Kyee (ပုပ္ ပုပ္ ျကီး) for two reasons. One was he was a chubby kid and the other for his voracious appetite and his passion for food (အ စား ပုပ္ လို့).
When Aye Aye started to talk she called Peter instead of "Ko Ko". She was repeating the name called by others. Whenever Aye called him Peter he would come over to my mother and complained that Aye Aye didn't call him Ko Ko. My mother coaxed him and explained that Aye Aye was still young to know that she should say "Ko Ko". Peter was pleased at my mother's reply. Later he came to tell my mother that Aye Aye had finally called her Ko Ko. Peter was proud to be an elder brother. So innocent and cute.

Peter's mother was fond of celebrating birthday parties for the children. Peter's birthday parties were held annually in the garden as the weather was fine in January. She would prepare every single delicacy such as a variety of cookies, sandwiches, puffs , fudge, sweets, small eats suitable for the children and the lovely birthday cake with candles. I always helped her because I have a keen interest in baking and learnt a lot from her. Peter remembered the birthday parties.

When my third brother (Dr Myo Tint) was stationed at the General Hospital in Kyaukkyi, a district town near Toungoo, my parents visited him, My fourth brother (Tin Htoon), Peter and I went along. The villagers entertained us in the Durian farm. It was the durian season. My father loved white rice with durian flesh, fresh hot milk, sugar and a pinch of salt. Peter also ate a lot of durian at a sitting and even his sweat smelled of durian. Doesn't our nickname suit him?

My mother would prepare Thingyan Htamin during the Thingyan Water Festival annually. It was one of my father's favorite. Peter joined his grandfather to feast with Thaingyan Htamin. It was a delicacy to be eaten in the hot weather. Plain cooked rice in fragrant water (beeswax) with jasmine flowers and rose petals and eaten with green mango salad and Nga Chauk Kyaw. Peter planned to visit Yangon during Thingyan this year. He told me in one of his phone conversation that he'll prepare Thingyan Htamin in Yangon. Poor thing, he couldn't make it.

Before I went for a long meditation retreat ( over a month ) at Chan Myae Yeiktha both Peter and Aye Aye reminded me to observe every individual small movements of the body (အ ေ သး စိတ္ အ မူ အ ရာ) from their previous experiences. It really helped and was beneficial in my meditation. I thanked them wholeheartedly while still at the Meditation Centre.

Peter drew ten drawings for my Abschluss Arbeit, like Thesis to be submitted before the Final Exam in my Final Year for Diploma in German Language. The title was "Der Kulturelle Hintergrund der Zubereitung and Darbietung der Birmanischer Speisen" — the cultural background of the preparation and serving of Burmese Food. I let him read the English version and told him how I would like to express with drawings. "A Picture is Worth A Thousand Words". My Professor, Dr Sontag was impressed with the drawings and he wrote Excellent on the cover. I passed my final year for German Diploma with Credit. Thanks to Peter's wonderful, descriptive drawings.

In 1993, I returned home after 6 months visit to USA and Singapore with my mother. Peter was in Yangon. I asked him to examine me for I had heavy menstruation every month. He told me that I was anemic. He asked me to lie down. He put his thumb on my navel (ခ်က္) and placed his palm on my tummy. He told me to see OG. He suspected a lump, the size of 4 months pregnancy. I made appointment with my high school friend OG Dr Cherry Than Than Tin. Uterus, myoma and ovaries were taken out in March 1993. Once again, thanks to Peter.

The turning point in his life took place when he decided to close his medical clinic in Win Mar's hometown, Maezaligon where he was treating so many patients daily and donating water from his tube well from early morning till night time. He wanted to pursue his profession and give good education to his two sons. He prepared for his preliminary MRCP examination with 8 friends in the living room of my mother's residence "45" Windermere Road for nearly a year. They sat on the bamboo mat with the round wooden table in the middle surrounded by stacks of books and files around them. They studied diligently and had discussions. All of them passed the preliminary exam at one shot. They were so thankful to my mother for allowing her premises for them to study peacefully. They paid respect, Ka daw DAE to my mother. My mother too was overjoyed for their success.

Peter took care of my mother measuring blood pressure regularly and checking our health. My mother enjoyed Peter's company and always called him whenever we made special seasonal dishes like fresh spring rolls, Hta Ma Ne, Thingyan Hta Min, Hin Paung to name a few. Peter and Mg Mg helped me in making Nyonya Cookies for Chinese New Year when they were kids for they enjoyed eating while doing instead of placing in bottles and tins. We missed him when he left for UK in 1994.
Peter and his family made frequent visits and celebrated his mother's birthday in January. He stayed at his parent's house and prepared breakfast for his mother and fed her patiently. We never knew that his visit for his father's 90th Birthday in August 2019 would be his last visit. I remember very well on the day of his arrival he came up after he had his lunch at his parent's house saying that he would like to rest after a long tiring flight and couldn't sleep on the plane.I gave him a bamboo mat and a pillow. He slept like a log for nearly two hours at a stretch. When he woke up he stretched his arms saying that he had regained strength and fresh now. I was so happy. One morning he came up and prepared scrambled eggs for my breakfast.
May 13, 2020
Dr. Aung Jee/Gyi (USA), close friend of Peter
U Tin Htoon, uncle
Min Sway-Tin, cousin
U Thaung Lwin, cousin
Ah Hlu for Peter by Win Mar, Min Ko and Ye Lay
Dr. Aung Jee / Gyi (USA)
My Friend Khin Tun (Peter), My friend since college day one, he is a dedicated kind hearted neuro rehab consultant in the UK. He is a brilliant analytical thinker of renown and beloved husband and father of two also brilliant young men. Memories of our friendship flood my mind.
We were in second MB when the workers riots rocked the city of Rangoon, we two were about the only ones left in the anatomy dissection room. Most students had not come that day and those who did had left. We two were doggedly dissecting into a cadaveric skull from the roof of the middle ear cavity to expose the three ossicles inside the middle ear. Khin Tun was lead dissection and he wasn't going to stop till done. Our tutor had told us to leave and we were carrying on, we were about 19 then. We finally finished and I could finally convince him it was time. We left from Leik Khone dissection halls via the back on to a gravel road in the back leading to Inya Road. It was the short cut from Prome road to Inya road. Near the Inya road entrance my dad's batman U Htar Pei was waiting with the family car. He had surmised that I would take the back road to Inya Road and stay off the main roads. He sighed a relief and took us home, we dropped Khin Tun at his family home in Windermere on the way. Throughout this Khin Tun was reciting the merits of the ossicles of the ear. I wondered if this was his way of dealing with stressful situations. He is an exceptionally bright individual, interested in knowledge only for the propagation of more knowledge for practical solutions, never for academic accolades or distinctions, one that I truly believe that was never interested in prizes or glory or renown, just a purist thirst for knowledge to solve problems.
Thus, we would finish medical school with only those close friends knowing how brilliant and knowledgeable he really is. After our House surgeon period we took up an assignment to collect data on Maternal and Childhealth in Upper Burma Townships, We spent the month of summer driving all over the dry midlands of ah nyar and collecting data in Magwe, Taung Dwin Gyee and Kyaut Ba Daung per project of our mentor Saya Johnny, interviewing auxiliary midwives, Community Health Workers and collecting answered questionnaires. We borrowed a land rover from the Agricultural department and he navigated and planned while I drove, talking all the time of friends, college and future hopes and plans.
I was to join the army after the trip and he would continue in Maternal and Childcare research projects while opening a private clinic. We ended the trip at Kyaut Ba Daung where Nwe and her Final Part One PSM group were staying for their community health project. We would spend a joyous night and half day there exploring Mt Popa and singing in front of the barracks well into the deep starry night in front of a bonfire. Afterwards we would leave, I would immediately join my unit in the army and Khin Htun would finish writing up the report. We spent many a night on makeshift cots or on the floor in closed high schools talking of anything under the sky eating at roadside restaurants along the road. Young restless and full of plans for the future that was roaring towards us at a fast pace. We had plans to go abroad for further training but never did we guess we would be leaving Burma to settle in foreign lands.
About a year later I would be attending Young Officers Course in Mhawbi and Khin Tun together with Pe Thet Khin was in a research project in Hlegu, Maternal and Childcare under our mentor Saya Johnny. I was on weekend free days and had taken a commercial line car to Hlegu where they were. Basically hung on to the back of a pickup with the spare till I got to the car gate. I had bought some roast duck and roast pork for them from a Chinese restaurant in Mhawbi. Also, brought a bottle of army rum for drinks. Khin Tun does not drink but loves roast duck and pork. Before dinner the three of us walked over to their private clinic in Hlegu, a little rented room and foyer with an examining table and desk with waterbath etc. A medium size closet for drug and medical paraphernalia. A few patients later two young ladies came walking into the clinic for a consultation and treatment. One was the friend cum chaperone as was traditional in a gossip prone rural setting and the other was a pretty young teacher with a rash on her hand. My friend Peter Khin Tun was immediately attentive as her youth and beauty captivated him. He proceeded to examine the rash, most likely an allergic eczema from some chemical, like it would earn him a Nobel prize in medicine if he were to cure it. The interest seemed pretty mutual to me and PTK who looked on with slight smiles. He asked for a second opinion and we agreed with him and I left a tube of steroid cream from my night bag for her. PTK the schemer made sure Peter would get all credit by telling the fair young teacher that it was a present from Bo Gyi Aung Gyi since his wife didn't need it anymore. It was his way of ensuring Peter was a lone contender though Nwe and I had not married yet. There was really no need as it was love at first sight for both of them. The rest is history with two brilliant young men for sons.
Winmar would tell the encounter in her own sweet way. There were three young doctors at the clinic, One tall fair handsome one , of course Peter, one slim one with a mischievous knowing twinkle, you have to remember this was PTK two hundred pounds ago, and presumed single heavily tanned short haired officer, ruggedly handsome, I added the last bit, laugh if you want. We would joke about it anytime we met with Winmar looking on with her sweet gentle smile.
I remember a wonderful time when we met again in UK. My family and I were visiting UK and Peter and his had settled down in UK after taking the MRCP exams. The exams were a breeze and he finished in record time. Myself, Aung Hpyoe, Ernie and Min Zaw aung and Peter were taking a hike into Epping forest. Taking pictures with our new found hobby in cameras. We persuaded peter to come along with us before lunch promising him a Bariyani lunch and a cold drink at the pub. I also promised I would carry extra cold water and all the cold pop fizz he could drink under the English summer sun. It was a most happy time taking pictures together ribbing each other with old escapades of youth, old girlfriends failed courtships etc. Talking ill of all those not present with renewed gusto and guffaws. We had some drinks at a pub and went home to Aye Aye Yee's home for a sumptuous lunch hosted by her and Ko Min Zaw Aung. Khin Tun ever thoughtful had brought some fresh coconut which we prepared and have young coconut with sweet juice. Photos from that gathering are the some of the most treasured memories we have.
A few years back we met again in Rangoon when we both were there to see our parents. Our parents homes are about a mile from each other, my mother's home in Golden Valley and his parents home in Windermere road. One morning we made plans and I walked over to his house at 0530. By the time I got there found Peter making fried rice on a wok, in the kitchen. He's a first class cook. We had a plate each fast and walked over to Shwedagon pagoda hill about two miles walk , it was still dark when we got to the base of the hill , the flower stall owners were still sorting lotus blooms at the base of the hill before carrying the bunches up for vending to the early worshipers. We walked up the Zaung Dan and did the rounds of family members birth day corners, and Peter showed me the various parts his family had donated. I said a prayer in my mothers corner and my father's favorite Bayan tree sate. After watching the beautiful Rangoon sunrise from the hillside we walked down the East Zaung Dan to YeTarShay road street market. At the base of the hill we found our friend Ko Aung Khin waiting for us beside his brand new Nissan crossover. He does not like rising too early but was willing to wait for us at the base. We had built up an appetite for a second breakfast by that time. We walked to MyaungMya Daw Cho for MontHingar, there we three had breakfast and paid for the two monks and thelashin eating there as a good deed for the day. Afterwards Ko Aung Khin aka Zaw Zaw The Phyu would drive us home, we stopped first at my house and my two friends graciously said hello to my mom and sat down for a chat.
Going back many decades of friendship there was much to say and reminiscence while laughing heartily all the time. Time flies and we vowed to do do it again. He and Winmar also found the time and effort to attend my daughters wedding Swun Kywe at Mahasi in Rangoon from their busy schedule. He would also visit my mom even when I'm not there in Rangoon.
True friends always there for you. I pray very hard Peter, you had so much more to contribute to the world, your daily meditation must have given you much mental strength you are surly now in a higher realm, please the world was a better place with you in it.
We miss you my friend, my regards to Uncle Tin U, Winmar, Min Ko and Ye Lay, stay in touch we are all family.
U Tin Htoon, uncle
Dear Win Mar, Min Ko, Prudence & Ye Lay,
Today is already one month that your beloved husband and father Dr. Peter Khin Tun passed away so unexpectedly. Fortunately you were able to arrange a proper funeral for him where relatives and friends around the world were able to join. Today you offered the requisites to Birmingham Sayadaw to mark the one month of his passing and again relatives around the world were able to participate.
Kindly see the attachments and hope that this will help you in in facing the vicissitudes of life.
Min Sway-Tin, cousin
He is the son of U Sway Tin (Ma Cherry's elder brother) and Daw Kyi Kyi Daing (daughter of U Than Daing). His grandfather and father translated some of Mogok Sayadaw's works. They recorded Sayadaw's dhamma talks.
After studying Physics / Electronics and working in US, he came back to Myanmar to take care of her mother, to volunteer as Mentor / Consultant to Physics / Electronics teachers and students and to help with the Mogok Vipassana Ah Phwe that was co-founded by his grandfather and parents.
U Thaung Lwin, uncle
Peter was the first son for the parents (U Tin U and Dr. Daw Khin Kyi Nyunt).
From his father's side, he was the first grandson and first nephew. It is therefore not surprising that his grand parents, parents, uncles and aunts showered him with much love, since birth.
From his mother's side, he was not so senior among the 20+ cousins, but they all loved him for his friendliness and precious medical advice from far (in the UK) and near (in Yangon). His cousin Ohnmar Khin acted as Master of Ceremonies at the Buddhist Marriage Ceremony in New Zealand for Peter's son Min Ko. Ma Toni (eldest of the Tin Gyi cousins) wrote about Peter's compassion while treating her son.

Peter always acknowledge thanks whenever he has a chance. He thanked me in words as well as in notes, for rewarding him and his siblings whenever they stood among the first three in their classes and school exams.

When I came to find work in Singapore in 1992, I sent to him thick volumes of MRCP preparation books, which my mother Daw Cheng Kim and my sister Cho Cho Hlaing (who were returning to Myanmar, after accompanying Shwehintha Sayadaw and another monk, from their trip to USA, which my mother sponsored) took back to Peter.

Peter and his friends (incuding Pe Thet Khin) studied these volumes of books at my mother's house, 45 Than Lwin Road. He and his friends succeeded in their MRCP exams. On getting these books, he wrote to me and thanked me, quoting "Giving a person a fishing rod to fish is better than
giving fish" as I have given him the tools to further his career and to help and heal mankind.

Peter will always be remembered for his kindly, loving, warming, helpful nature and for his sacrifice to his life, knowing that he could be effected by this deadly virus.

Peter had done many good deeds in his life, which will enable him to be in a higher plane, achieving Nibbana at the end.
Ah Hlu for Peter
by Win Mar, Min Ko and Ye Lay
Peter passed away on April 13, 2020.
On May 13, 2020, Win Mar, Min Ko and Ye Lay offered requisites to Birmingham Sayadaw and shared merits for Peter.
Several relatives saw the dana offering via Zoom.
Ye Lay's remembrance of his Phwa Phwa
One of May May's friends planted a white cherry tree on front lawn. A pink cherry tree will come on Saturday and it will also be planted.
Today I recited prayers as I poured water on the white prunus cherry tree.
From Dr. San Hla (One of Peter's best friends, Consultant Physician) and Daw Khin Khin Oo
Dr. Ye Myint, brother
My brother, Dr. Peter Khin Tun, passed away peacefully a month ago (13 April 2020).
We grew up in a large family estate and we had very enjoyable childhood. We went to same school and University. He looked after me, and taught me many things including Buddhism, Mindfulness meditation, and to find out about " inner peace". He also taught me for cooking, many sports like football, badminton, swimming, and cycling. He also gave me a good guide to become a compassionate doctor.
He was very kind with full of loving kindness. He was very keen to do many good deeds, including various donations, looking after our parents, relatives and friends. He was very passionate to cook good food for all relatives and friends visiting his house.
We shared many good memories in Myanmar, in UK and various holidays in Italy and New Zealand.
I love you and will miss you for the rest of my life.
May 12, 2020
Aye Aye Khin, sister
Photo card by U Tin Htoon, uncle
Ma Toni, cousin
Cho Cho Hlaing, aunt
Jess Myint, niece
Aye Aye Khin, sister
She is Peter's younger sister and Ye Myint's older sister.
She graduated with B.Com and completed her CPA.
In an early assignment to Upper Burma, she found her love life Ko Tin Tun — younger brother of my former SPHS classmate Dr. Maung Maung Gyi (GBNF). They have two daughters : Thin Thiri Tun (Honey, electronics engineer in Singapore) and Khin Sandy Tun (Pu Tu, medical doctor).
Since Peter and Ye Myint were working in UK, Aye Aye and Pu Tu looked after U Tin U and Ma Cherry. About a year and a half ago, Ko Tin Tun developed a problem that required medical treatment in Singapore and Yangon.
Peter monitored the health of his parents and Ko Tin Tun (via calls with Aye Aye and Pu Tu).
Peter told Aye Aye not to worry about Pu Tu's future. He would sponsor Pu Tu to study MRCP in UK.
Before Peter was hospitalized, Aye Aye and Pu Tu had a daily conversation with Peter, who continued to advise on Ko Tin Tun's failing health. Peter appeared to be in high spirits.
It was an unpleasant surprise to learn about Peter's demise — the second loss in the family within a few months.
Due to the pandemic, Pu Tu could not go to Bangkok to take her PLAP examination. As a blessing in disguise, Pu Tu could take care of her father.
Aye Aye and Pu Tu do not have time and energy to share their memories of Peter. They miss Peter badly.
Peter loved Pu Tu very much because she took care of Ma Cherry and wanted to help Pu Tu with her career.
Aye Aye thanks Honey for reminding them that sorrow is a form of DOSA and to overcome sorrow with vipassana meditation.
Photo Card by U Tin Htoon, uncle
Ma Toni, cousin
She is the daughter of U Sett Khaing and Daw Sarah Tin Gyi. She is the Oldest among the 29 Tin Gyi cousins. She would call her two youngest maternal aunts as Ma Ma Tin and Ma Ma Tu.
Daw Mi Mi Khaing, author and Principal of Kanbawza College, is the younger sister of U Sett Khaing.
She studied English Honors and taught at RIT. She was a leading member of the RIT Scrabble Club which produced Champions like Saya Des (now in Canada) and Saya U Khin (now in Taiwan).
She joined her spouse H.E. U Nyi Than (GBNF) during his diplomatic missions abroad. They have a son and a daughter.
Upon her return to Myanmar, she taught at International / Private Schools. She stays mentally active by playing Scrabble and Bridge.
I met her at the RIT SPZPs and recently when her beloved Ma Ma Tu passed away late last year. She was accompanied by two cousins : Diana and Tessa.
The following is a note she sent to to her cousin Ye Myint in UK.
Tomorrow is one month of my cousin Peter's passing. I want to share with you all, an incident that will forever be embedded in my heart and mind. My son Ye Min had dysentery and within hours, in front of our very eyes started to look gaunt with sunken eyes due to loss of fluid etc. I was frantic and then Peter came to the rescue. He stayed with him, administering drip till he was stable. He saved my son's life, calming me down at the same time. He was that kind of person. I still can't get over his loss. Peter, Rest in Peace.
Cho Cho Hlaing, aunt
U Tin U (Peter's father) is the eldest of 9 siblings.
Ma Cho is the youngest. Her mother told her many stories.
I heard a few from her last night.
There was a "Taya Pwe" by Mohnin Sayadaw at the "Maida Kwinn". There was a large crowd. Mo Cho's mother and aunt are devotees of sayadaw. Ma Cherry's mother also was also a devotee. Young Ma Cherry and Ma Olga dressed as yogis would accompany her mother. Ma Cherry could not find her mother among the crowd. She ran into Ma Cho's aunt and then cried. Little did both realize that with "Yay Set" both would be related by marriage later.
U Tin Gyi (Ma Cherry's father) was highly respected as Commissioner of Cooperatives and received awards. He was building a new house in Windermere Road for his large family. He went to UK to attend a meeting but passed away unexpectedly. His son U Sway Tin collected his ashes to be brought back home. Ma Cherry's mother did not want to leave her old house. So the new house was sold to Dr. Chan Taik.
Ma Cho studied Chemistry and worked at Central Research Organization.
She organized donation drives to selected monasteries. For several years, she hosted a weekly meditation sitting.
She wrote an article for "Neikbeinda Taung" (in Prome / Pyay), where several relatives took refuge during the war.
She also wrote an article named "Windermere Hma Kyee See Than" for "Wi Thudha Yone Kyaung"It described the "Ah Yone Soon Kyee Laung" initiated by U Kyaw Thaung and team.
Jess Myint, niece
She is still trying to recover the loss of Peter (who was like a second father). She had high hopes even after Peter was admitted to ICU, but they dashed as Peter's health deteriorated the following days.
She sent me several photos.
Photo taken in Northampton, UK
Memories from New Zealand
May 11, 2020
Dr. Khin Kyi Nyunt and U Tin U
One Month Memorial
Dr. Khin Kyi Nyunt and U Tin U
During our visit to UK, Peter gave me a memory stick containing the interviews made by Min Ko.
I learnt that U Sett Khaing and Daw Sarah Tin Gyi took Tin Tin Aye (Olga, Ma Tin) and Khin Kyi Nyunt (Cherry, Ma Tu) to India during the Second World War. When U Tin Gyi passed away unexpected in the UK, the two young sisters were not informed immediately to spare shock grief.
The two sisters were very close since they attended classes together. After their return to Burma, they attended a Convent High School. They matriculated in 1948 (or 1947) and attended Rangoon University. They received their MBBS. Ma Cherry joined the Faculty of Medicine as Demonstrator. She transferred to BMRI (Burma Medical Research Institute) to work on Nutrition projects. She received a post graduate diploma from UK.
She married U Tin U on May 5, 1957. They had large extended families since Ma Cherry is the youngest of nine siblings, and U Tin U is the eldest of nine siblings.
At the wedding reception, her nieces joined Ma Cho (U Tin U's youngest sister) as Flower Girls.
They had three children : Peter (Khin Tun), Aye Aye Khin and Ye Myint.
They have five grand children : Min Ko, Ye Lay, Aye Sandar, Thin Thiri Tun and Khin Sandy Tun.
Peter moved to Mezaligone after his marriage to Win Mar and opened a clinic.
Per Win Mar, they were delighted to have Ma Cherry join them in Mezaligone for about a year and look after Min Ko.
After Peter went to UK, Win Mar and her two sons stayed in the Windermere Compound. They later moved to join Peter in UK.
Ma Cherry visited UK for the second time to see her sons and their families.
Peter visited Burma mostly in January to celebrate Ma Cherry's birthday in January 12 and also his birthday late in the month. Peter posted photos of the 80th and 85th Birthdays with Ma Cherry.
Peter also posted photos of his father's 90th birthday on August 3, 2019.
Min Ko and Pru hosted their engagement party in Yangon.
Ye Lay was invited to a talk in Yangon. He gave additional lectures at the Physics Department at Yangon University, and the Electrical Engineering Department at Yangon Technological University.
One Month Memorial
U Tin Htoon prepared a special Photo Card for Peter's one month memorial.
Win Mar and family will have a special dhamma talk by Birmingham Sayadaw. Min Ko will arrange a Zoom meeting for relatives overseas.
May 10, 2020
Celebrations in May
Wedding Anniversary
U Tin U and Dr. Daw Khin Kyi Nyunt
Birthdays
Daw Khin Than Aye (Helen, spouse of U Tin Htoon), USA
Due to the "shelter-in-place" ordinance, food was ordered for delivery from a nearby restaurant

Khin Hnin Su (daughter of U Soe Min Oo and Daw Kay Thi), Singapore
She received admission from NUS and NTU on her birthday
For about a decade, she donated S$300 to sponsor a yahan studying with the assistance of Dana Sri Lanka society co-founded by Daw Tin Tin Myint (Emma, ChE70)

Thin Thiri Tun (Honey, daughter of U Tin Tun and Daw Aye Aye Khin), Singapore
She recorded Peter's service and shared the video with relatives (some who missed part or whole of the event)
Mother's Day
I have created an album of Mothers in my Facebook pages.
They include my mother, aunts, sisters, cousins and friends.
My mother was holding my elder son (who was the youngest of six cousins at the time the photo was taken).
My spouse celebrated "Mother's Day" (include "Grandma's Day) with home-cooked "Kyee O" by her "Thamee" (daughter-in-law) and her lovely "Myees".
Peter's article about his father U Tin U
He had an experience of being kidnapped by his company driver who hired "insurgents" with criminal records, to do the job. They came to his office at Lewis street, and pretended to be from military intelligence in mufti. They asked him to come along with them for questioning. They asked the office driver to drive the company jeep up to A1 compound near 9th mile and let the driver to get off at a bus stop with a letter to give to my mother.
One of them took the driver seat and continued driving out of the city passing Mingaladon airport. When their jeep went past the Mingaladon Military Intelligence Centre (Yay Kyi Ine), my father became suspicious.
Luckily, there was a road block near Hmawbi, and the kidnappers tried and overtook the battle tanks in a convoy on the road. An off duty military police stopped the car, giving my father a chance to ask for help; my father reached the car key from the back seat and threw it away. The military police asked my father to drive instead and was later freed, after being taken to the military commander and the police station.
In the mean time my mother, who was doing research at Insein Railway Hospital, received a ransom letter at 11 am to bring 60,000 Kyats in a jute bag, wearing a red longyi to a road corner, near "Ar-lain-nga-sint" pagoda in "Mingaladon", by 3 pm the same day.
The kidnappers' plan was to torture and kill my father whether they received the ransom or not. The grudge was for sacking the driver who took sick leave, and went to work in another company to get two salaries.
Editor's Note :
Was it a miracle? Or, was it a series of coincidences?
U Tin U overcame a death threat. He continued working and enjoying Golf and the 19th hole celebrations. Even to this day, he keeps fit by watering plants in the garden and taking his daily dose of Scotch Whiskey.
He looks healthier than his younger brother Sayagyi U Ba Than.
When he heard about Peter's untimely demise, he was shocked / upset for three days. Then, he refused to go to the front lawn in the evenings. His reason : "There is nobody to talk to."

Ye Myint requested his father not to give up his daily routine and added "We will call you".
May 9, 2020
Mother's Day
In the US, the second Saturday of May is celebrated as Mother's Day. In 2020, Mother's Day fall on May 9, 2020.
Due to "Shelter in place" ordinance still in effect, we had a simple family gathering. My Myees helped peel the quail eggs for the "Yaw / Mixed Kyee O" prepared by their mother. Chit Sa Noe sang "Mother's Day" song for her grandma and mother.
In the beginning, Pho Lone would only give us an "Air Hug". It was a precaution.
When we were young, we listened to the song called M-O-T-H-E-R.
M-O-T-H-E-R (Song)
M is for the Million things she gave me
O means Only that she's growing Old
T is for her Tender sweet caresses
H is for her Heart of purest Gold
E means Everything she's done to save me
R means Right and Right she'll always be

Put them altogether, they spell MOTHER
A word that means a world to me.
M is for the Mercy she possesses
O means that I Owe her all I Own
T is for the Tears she shed to save me
H is for her Hands that made a home
E is for her Eyes with sunlight shining
R means Real and Regular you see
Put them altogether, they spell MOTHER
A word that means a world to me.
Min Ko
Like his father, grand father and great grand father, he is the eldest son in the family.
He was born in Mezaligone. He grew up to see his parents go in a jeep to nearby villages to treat patients. He remembered Peter dig a tube well and provided drinking water for the neighbors. His memories became clear as he listened to an old phone message from Peter to tell him and Pru about his life as a "village doctor".
Min Ko stayed for some time with Peter's parents when Peter moved to UK.
The family reunited after Peter had two jobs and was financially secure.
Min Ko graduated from Kent University in 2009. From 2010, he worked on BTM-UFLP ("Be on The Move – Unilever Future Leaders Program") projects. He worked in UK, Spain, Australia and/or New Zealand.
He joined Peter to attend the wedding / reception of Thandar (Peter's cousin) held in Mexico several years ago.
He and Pru hosted an engagement party at Winner Inn over a year ago.
The wedding / reception took place in New Zealand in February 2020.
Peter told his aunt, uncles and cousins that his father U Tin U might live long enough to see the great grand child. Peter also mentioned that he will retire in three years time and spend quality time with his extended family.
Sadly, Peter lost his life due to misguided Policies and Guidelines.
Min Ko found Peter's e-mails requesting PPE. He presented the emails to the news media and gave interviews. He emphasized that the staff of Royal Berkshire Hospital were professional, kind-hearted and took care of Win Mar and Peter during the hospitalization. He was sad that his father was victimized by those "hiding behind policies".
Min Ko could not grief fully since he had to take care of the legal and financial matters (e.g. filling paper forms, talking to lawyers and insurance companies, preparing the funeral service).
He wrote a letter to Peter and choked while reading. He told Peter once again that (a) he will take care of the family (b) he will tell his child (when he gets one) the life story of Peter.
U Tin Htoon
On May 13th it will be one month that my beloved nephew Dr. Peter Khin Tun suddenly left us. In his remembrance I will start posting some of the photos of our very last pleasant, joyful and memorable meeting with him and his family in Tauranga, New Zealand in February. As there is a saying "a photo is worth a thousand words", I sincerely hope that these photos will supplement the following brief description of mine.
In the first group will be about Min Ko celebrating his 34th birthday at #8 Restaurant and Bar on February 14th. It was also like a welcoming dinner for relatives from both sides gathered to attend Min Ko & Prudence's wedding.
In the second group will be that of the Church wedding and the wedding reception on February 15th. We were extremely fortunate to have an excellent weather for an outdoor event.
In the last and final group will be about our unforgettable stay of of over a week at the lovely Trinity Wharf Hotel where we had countless delicious breakfast prepared by Peter and Ye Lay, and lunches and dinner arranged by Min Ko out of his extremely busy schedule. It was next to the Ocean and was just like a "home away from home," thanks to Tin Kyi Win who selected and arranged for us. During that time Peter told me about his plans to retire in three years time. Those very last words of him still rings in my ears. The thought that if only he had those PPE which he literally had to beg for, he might be still alive today to enjoy his hard earned retirement after a life time of service which he succumbed to still lingers on,
Surely he will be missed by so many of his family members, relatives, colleagues and patients. We all wish him for a much, much better and brighter existence.
With Boundless Metta,
May 8, 2020
Ye Lay
In September 2017, Peter and Win Mar hosted us at their house in Reading. We say first hand several expertise of Ye Lay.
Peter asked Ye Lay to play music for his guests. He was the leader, guitarist, composer and vocalist of a band.
During his visit to Myanmar, he would entertain his grandma with her favorite songs (e.g. Danny Boy). He would present his grandpa with his favorite "medicine" (Scotch Whiskey). Min Sway-Tin (Peter's cousin) would arrange Ye Lay to give lectures (e.g. Python and applications) at the Physics Department and selected places. Ye Lay would also do programming / testing in the evenings and night for a project that he was working back in the UK.
During our visit to Reading, Ye Lay had taken a break to consider his options :
study for a second Masters (specializing in AI)
study for a doctorate
work as software developer and SME (Subject Matter Expert) in the UK or abroad
Peter asked Ye Lay to be my guide to visit Oxford University and to discuss with him at home and during the trip.
I called Ye Lay the other day to inquire about Win Mar's health. He said that his mom is doing well. Ye Lay and Min Ko are staying with Win Mar. Since Min Ko had rented a flat / apartment for a couple of months, Pru visits daily from the flat.
Ye Lay remembered my chats with him. He said he had read my posts of his father's final days (e.g. Ye Lay singing "Loch Lomond" and the trip to St. Andrew in Scotland for his second Masters degree). I requested him to archive Peter's posts about cooking (e.g. recipes of his mother, grand uncles and grand aunts), his ancestors and photos.
Ye Lay is adding "Cloud" expertise to his repertoire. I wish him success in his endeavors.
May 7, 2020
Two Old Posts by Peter
Baby Peter (2 weeks old) with his mother
Peter's Expertise in Cooking
May 6, 2020
Nick Prolix Comix
Artist / Teacher drew Peter's portrait with the message :
RIP Peter Tun, associate specialist in neurorehabilitation at the Royal Berkshire Hospital in Reading
Min Ko commented :
Oh wow! That's my dad! That's amazing!
Nick Prolix replied :
So pleased to be able to do something in tribute to the amazing work of folks like your dad none of whom should have lost their lives doing their jobs. Lovely to know he was an artist himself and thank you again for reaching out
May 5, 2020
Life cut short by misguided Policies
Peter's grand mother lived up to 94.
Peter's father celebrated his 90th birthday in 2019. He used to sit in the garden every evening talking with someone and taking his daily dose of medicine. After learning about Peter's untimely demise, he was devastated for three days. He no longer feel sitting out in the garden.
Peter's mother passed away a few months short of her 89th birthday. She and Peter are both January born. Peter would fly back to Yangon almost every year (for the past decade) in time for his mother's birthday. They would perform dana together mostly at Chan Myei Yeiktha.
Three uncles and two aunts are in their 80s.
Relatives and friends mourn the loss of Peter and miss his compassion, help and smiles.
Due to misguided Policies and Guidelines, Peter lost his life at the tender age of 62.
We cannot get Peter back, but we hope other medical staff in the front line fighting the invisible enemy would not have to suffer the same fate as Peter.
Archives
Myo Kyawswar (Peter's cousin) recorded and shared the Audio files.
Thin Thiri Tun (Peter's niece) recorded and shared the Video.
May 4, 2020
30 Doctors are among the victims of COVID-19. They are hailed as "Heroes", but many family members felt that their loved ones paid a high price behind [misguided and rigid] "Guidelines and Policies".
Peter Khin Tun is #56 in the list provided by NHS
Some unanswered questions
Origin of COVID-19 (the disease caused by Coronavirus) and how it spread
From the wet market?
From eating exotic animals / food?
From a lab? (some say the virus is not man-made; some speculate that the virus could have "escaped" leading to conspiracy theories)
Blame game (by countries and organizations)

Why the early reports downplayed the damaging power of COVID-19
Some early reports did not mention that the virus can be transmitted by humans (Later reports show how a single infected person can unknowingly spread the virus to masses attending gatherings, taking cruises)
Some said that washing hands is "good enough" (The hand is only one source of infection.)
Initial reports say the virus attacks the respiratory system.
Later reports report damage of organs (kidney, brain, …) and the nervous system.

Why several countries reacted slowly to the Pandemic
Some pointed the fingers to WHO (for declaring the Pandemic late)
Some dismissed the virus as a "Myth" or a "Kind of flu that will go away easily".

Why front line health workers in some countries were not provided with PPE
Some said the policies were guided not by science, but by the availability of resources (Some guidelines were relaxed too much).
Some said that it was to save cost (not realizing that the medical equipment may not be easy to purchase or order during a Pandemic).

The impact on economy
The Bull market has disappeared
Millions got laid off

The impact of social behavior
Some people cannot even visit their close relatives
On-line teaching / learning (need reasonably good Internet connection and devices)
Tele-conferencing (to see loved ones for the last time' cannot attend funeral services)

The safe distance
Most guidelines say 6 feet, but some experiments show that the virus can travel farther (some up to 20 feet)

Why asymptomatic cases were ignored in the initial reports
To have good statistical reports
Many that were infected did not display symptoms (upgraded to six in later reports) but they contributed to the spread of virus
They could "carry" / "spread" COVID-19 (and not easy to "trace" the 0-person / originator of hot spots)

Why COVID-19 has different impact on
Men (60% of cases in UK)
Asian and Blacks (were hit more in UK)
Age groups (80 year olds are the hardest hit; Nursing home fatalities are high)
Countries (some "poor" nations fare better than "rich" nations)
Many factors (e.g. genetic make up, health condition, blood type) are being studied, but no conclusive results yet.

Most new medicine /cure take 5 – 10 years of development, testing and approval
Can a "truly safe" vaccine or a cure be found / developed in a few months?

Why many "miraculous cures" were promoted by people who have no medical knowledge
Ingesting disinfectants

Why some do not seem to have compassion
A few politicians say that "economy and liberty" are much more important than the loss of lives (particularly the "seniors")

May 1, 2020
Dr. Khin Tun (Peter) passed away on April 13, 2020.
He was laid to rest on April 30, 2020.
His immediate family and a few friends attended the service physically.
Many relatives and friends joined the telecast.
From Oxford Sayadaw U Dhammasami
Dakagyi Dr Peter Khin Tun,
From now on, it will not be my priority to remember that you lived 62 years, but rather how many thousands of life you have touched and nurtured. People are remembered for what they did for others, not how long they live. Ultimately, it is your exemplary selfless service to the many that will be inscribed in many hearts. Since we came to know each other in London in 1996, you have watched proudly your two boys grow up and achieve some standing of their own. As you always wished, I will take care of them spiritually so they can serve many souls as you have. Have a good rebirth.
With metta,
April 30, 2020
The Last Journey
Message and Prayer (Recording)
Sayadaw U Ottara Nyana likened the pandemic as the 21st Century World War against an invisible enemy.
Sayadaw recited a prayer and shared merits with Peter and others who were victimized by COVID-19.
Memories by Ye Lay (Live)
"Pe Pe Ko Chit Tae". [ I love Dad]
Ye Lay thanked his father Peter for the wonderful things that he had learned. In particular, the chanting "I take refuge in the Triple Gems". He recited to Peter at the hospital.
He sang an old Scottish ballad "Loch Lomond". He remembered Peter taking Chan Myei Sayadaw to Loch Lomond.
By yon bonnie banks and by yon bonnie braes
Where the sun shines bright on Loch Lomond
Where we two have passed so many blithesome days
On the bonnie, bonnie banks of Loch Lomond

[Refrain]
O ye'll take the high road and I'll take the low road
And I'll be in Scotland afore ye
But me and my true love will never meet again
On the bonnie, bonnie banks of Loch Lomond

I mind where we parted on yon shady glen
On the steep, steep side o' Ben Lomond
Where in purple hue, the Heiland hills we view
And the moon shinin' out from the gloamin'
Ye Lay studied at St Andrew's in Scotland for his second Masters. His parents attended his graduation.
He ended by reciting
"Buddham saranam gaccha mi. [I take refuge in the Buddha].
Dhammam saranan gaccha mi. [I take refuge in the Dhamma].
Sangham saranam gaccha mi. [I take refuge in the Sangha].
Memories by Dr. Ye Myint (Recording)
Firstly I would like to thank you all for being here.
Thanks to all those who shared their good memories of my beloved brother. The family appreciates your kind thoughts and prayers.
It is a great honour to be able to share my memories, and talk about my big brother Peter, who will forever remain in our hearts.
My kindhearted brother spent his life caring not only for patients, but relatives, friends and acquaintances. He gave up his life in the line of duty. He will be missed by all.
Peter, my sister and I were very privileged to grow up together in one large family estate. We were very close sharing the same room and being together daily.
He set a high bar for us intellectually and socially. Due to his high intellect, he got double promotion twice and skipped 2 years.
He matriculated with four distinctions. He stood 23rd in the whole of Burma and was awarded a University Scholarship. He was admitted to the Rangoon University of Medicine, which I also attended. He supported me to become a good compassionate doctor like himself.
He stayed fit by taking part in many sports : football, badminton, cycling and rowing. He was the university selected athlete for Shot put and Discus throwing.
He started cooking as a teenager and learnt many recipes from our mother and continued this lifelong hobby. He was a very good artist and created large paintings as well as water coloured Christmas cards. He was also a very keen gardener and read various books. He had great general knowledge and many called him a walking encyclopaedia.
After he qualified as a doctor, he worked as a UNICEF research officer for mother and child health in Hlegu where he met his future wife Ma Win Mar. After they fell in love he decided to move to Mezligone. I accompanied him on this trip there and helped to set up a new medical clinic. He worked there daily for 11 years where he was relied upon by his patients even out of hours.
I sponsored him to move to UK in 1994 to help progress his medical career. He lived with us until he got his first job in Burton-on-Trent. He got his second job in Pontefract and arranged for his family to relocate to the UK to join him. We were lucky to live only 20 minutes drive away so had nice weekly reunions which made our families even closer.
He then moved to London for rehabilitation medicine training after he passed his MRCP examinations and then moved to Reading 21 years ago working as an associate specialist. Peter has helped many Doctors coming to the UK for further studies where he gave valuable advice and treated them to his home cooking. He always enjoyed entertaining and cooking for family and friends.
We had regular family reunions and memorable family holidays together in Devon, Italy, Burma and most recently in New Zealand. We will cherish these lovely memories together. He had such a great sense of humour and always made those around him happy with his personality and big smiles. He was remarkable in many different ways. He lived an enjoyable successful life and treated all family members, relatives and friends with loving kindness. He touched so many people as evident by the countless tributes, messages, cards and donations.
I am sure you are in a much better place, Ko Ko, after doing so many good deeds throughout your life. We will miss you greatly and always remember you with love. Thank you so much for being a loving big brother, a great Uncle to Aye Sanda, a best friend, mentor and teacher.
Lighting six candles followed by Reflection
Six candles were lit :
One for Peter
Three for attendees of the service near and far
One for Doctors and Nurses
One for people around the world
All stood up for a moment of Reflection.
Memories of Min Ko
Min Ko shared Dr. Peter's wonderful, precious life in Meizaligone, a village in Henzada District, Irrawaddy Division.
Since the clinic was at the house, the family members were woken up early by villagers lining up to get water from the tube well.
Peter's clinic opened from 6AM to late at night seven days a week.
Peter treated sick villagers with CETANA, some free of charge, and some were given cash assistance to go to Hospital in Big Towns.
Once a month Peter invited neighbors to have meals in the house.

Peter had an old car and learned how to do repairs.
Song before closing the curtain
"What a wonderful world" by Louis Armstrong
Message by relatives
Dr. Myo Tint (uncle) wrote :
Dear Win Mar, Min Ko and Ye Lay,

The Funeral Service. was very touching.
The speeches bring out what a wonderful, philanthropic, generous, well learned gentleman Peter was.
May he Rest In Peace.
Ma Kay (cousin) wrote :
Very touching speeches Ko Ye Myint and Min Ko
April 29, 2020
Hospital Investigates Death of NHS Doctor Peter Tun Who Pleaded for PPE
https://www.theguardian.com/world/2020/apr/29/hospital-investigates-death-of-nhs-doctor-peter-tun-who-pleaded-for-ppe?CMP=Share_AndroidApp_Gmail
Home Sweet Home
Min Ko wrote about his mother Win Mar :
I picked her up this morning. She's home now. She's missing PePe but in good spirit all things considered. The hospital gave us a wheelchair to keep for a while in case she needs it. She's eating as well which is good. Aunty Theingi ordered some delicious food for May May. I'm dealing with pensions and other major admin at the moment. Ye Lay is home and I will go back later this afternoon also.
Mezaligone Days
Peter spent eleven years at Mezaligone.
He opened a clinic and treated the villagers often free of charge.
He even paid a few to have surgery at a hospital.
He shared the water from his 180-ft deep well with his neighbors.
He invited them once a month to have Mohinga or some other treat.
He had to order tablets to purify the drinking water. Still he head to treat patients for dysentery and diarrhea.
April 28, 2020
There have been several complaints to NHS particularly about the shortage of PPE and the accountability over the guidelines.
NHS Secretary Matt Hancock says he feels 'deep sense of duty' to those infected while at work. He announced 60,000 Pounds payout to families of health staff who die of coronavirus.
Min Ko's response :
There needs to be accountability over the guidelines. I would rather have my Dad than money, absolutely, 100%
The Guardian
https://www.theguardian.com/world/2020/apr/27/families-health-staff-die-coronavirus-get-60000-payouts-matt-hancock
Families of health staff who die of coronavirus to get £60,000 payouts
Matt Hancock says he feels 'deep sense of duty' to those infected while at work
https://www.theguardian.com/world/2020/apr/28/britain-holds-minutes-silence-in-tribute-to-coronavirus-dead
Britain holds minute's silence in tribute to coronavirus dead
Politicians and public across UK remember key workers who have died during pandemic
Good News about Win Mar
Min Ko (Michael Tun) wrote :
Just spoke to May May.
It looks like they will be able to send her home tomorrow.
Also there was a 1 minute silence for NHS workers who lost their lives and doctors and nurses came into May May's room to pay tribute and do the 1 minute silence with her.
Dr. Ye Myint wrote :
We spoke to Ma Win Mar few minutes ago. She is well. Her voice is stronger and can eat reasonably well. No fever for the last few days. Not required for O2 today. There was one minute silence for National heroes who paid their lives working in hospitals (NHS). Many doctors and nurses (including Ko Ko's ward nurses) came to her room and many people had to stand outside her room along the corridors for 1 minute silence to honour Ko Ko (Peter). Ma Win Mar will go home about 10 am tomorrow morning.
April 27, 2020
Min Ko's interview with ITV
Min Ko believes that his father's death is "probably avoidable" with proper PPE (Personal Protective Equipment).
https://www.itv.com/news/2020-04-27/son-of-consultant-who-died-with-coronavirus-says-death-probably-avoidable-with-proper-ppe/
Sports
Peter's father U Tin U is Past Captain and Gold of RUBC (Rangoon University Boat Club). He is also Past Captain of RGC (Rangoon Golf Club).
Peter's uncles Dr. Myo Tint, U Tin Htoon and U Thaung Lwin are also Past Captain and Gold of RUBC.
Peter represented IM(1) in Track and Field. I requested George Paw Tun to give Peter tips on Javelin and Shot Put.
Sad to note that both Peter and George are now GBNF.
Bedin
A Bedin Saya told Peter that his friend would become a Minister. It turned out to be true.
Not sure if that Bedin Saya warned Peter of his untimely demise.
April 26, 2020
Good News About Win Mar
Dr. Ye Myint (Peter's brother) sent this message :
Good news. We have spoken to Ma Win Mar. It is first time that she talked to us for a longer duration (about 10 minutes). Her mood and appetite has improved. She can sleep well at night. No fever for 4 days. She may be able to go home soon. She will attend Ko Ko's funeral on 30 April.
Old Photos
Notes about the Updates
The updates are in reverse chronological order.

The initial post was made on April 15, 2020.
It was based on news, photos and memories of Dr. Peter (Khin Tun) who passed away on April 13, 2020.

Peter is missed by his relatives, friends, colleagues and patients for his metta, cetana and professionalism.
His kindness, compassion and the desire to help people are displayed in the countless tributes.

Peter's last journey is scheduled for April 30, 2020.

Daw Win Mar (Peter's spouse) was hospitalized.
She is recuperating.
Hope that she will recover fully and be discharged soon.

Min Ko (Peter's elder son) is taking care of the legal documents and his father's funeral.
He gave the media his father's e-mails warning about the shortage of PPE. It seemed that some managers were "hiding behind the policies".

Dr. Ye Myint (Peter's younger brother) gave two interviews (one in Myanmar, another in English) to BBC.
He was the main contact with the medical staff during Peter's hospitalization.

We sincerely hope that Peter's demise would not be in vain.
It should lead to better management and judgement for the authorities handling the COVID-19 pandemic, and prevent health care workers in general, and front line staff in particular (who would appreciate their lives more than recognition as "Fallen Heroes").
April 25, 2020
NHS
The news media in UK reported formal and informal complaints by the Health Care workers to NHS about
Shortage of PPE (affecting the health and life of the front line workers)
NHS guidelines (which change to meet the supply rather than on medical grounds)
Support
Peter's relatives (uncles, aunts, cousins) and family friends performed dana and shared deeds with Peter.
Many also donated for medical expenses and Peter's final journey on April 30, 2020.
They are glad to see tributes pouring in for Peter, but they are sad to know more about the untimely loss of Peter.
Dwindling financial support by NHS to its hospitals, shortage of PPE and medical equipment, "blind" adherence to guidelines (which do not acknowledge the threat of COVID-19) may have caused the lives of many front line workers.
IN MEMORY OF MY GRAND-NEPHEW DR PETER TUN, MBBS, MRCP (UK)
Dr Peter Tun succumbed to Covit-19 virus while on duty at Royal Berkshire Hospital in Reading, UK because PPE was not provided to his NeuroRehabilitation Ward.

I knew Peter when he and his brother Dr Ye Myint were kids playing with my two sons Calvin and Zaw throwing water on people during the water festival on Burmese New Year. They also enjoyed swimming at Kokkine Swimming Club with my sons.
We got separated with Peter when he was 13 years old when we migrated to US on March 2nd, 1971. It was August 28, 2003 when I met him again in UK. By then, he was a Doctor working for NHS at Royal Berkshire Hospital in Reading.
Peter and another grand-nephew Mg Khyne Soe (Clive) met me at Heathrow airport and took me to his house to meet his wife Win Mar and two sons Win Ko and Ye Lay. We ate the sumptuous lunch prepared by Win Mar before we left for sightseeing. He took me to Oxford University and bought me the University Cap as a souvenir which I still have it. Later he drove me to Windsor Castle and the river Thames, then dropped me and Clive at the railway station for my trip to the B & B Inn where I had reserved a room for my three days stay in London. That was my last physical encounter with Peter. Although he and I had visited Myanmar many times we missed each other on our visits to Yangon. My last email to him was in August 2019 requesting him for the recipe of Pae Pyoke (steam peas).

He was an active Facebook member and his blogs and photos are mostly about his parents, family, siblings and relatives and of course food which he love to cook and eat.

Peter was true to the Hippocratic Oath he took when he graduated and became a doctor. We were told by his son that during his private practice at Mezaligone Village in Myanmar he took care of his poor patients and even provided medicine when they cannot afford to pay for his services. He does not have any discrimination in dealing with them. He and his brother Dr Ye Myint took care of their parents during the difficult period of the Military Administration of Myanmar. He's a son every parent would be proud to have.

The demise of Peter was a great loss not only to his family but also to the community of Reading whom he had taken care. He took acre of the patients just like they were his parents.

PETER IS GONE BUT HIS LOVING KINDNESS, SINCERITY AND COMPASSION WILL ALWAYS BE REMEMBERED AND NEVER FORGOTTEN BY THOSE HE HAD TAKEN CARE.
Thein Han (Uncle Charlie)
April 25th, 2020
April 24, 2020
Dr. Ye Myint (Peter's brother)
Dr. Ye Myint gave an interview to BBC.
https://www.bbc.com/news/uk-england-berkshire-52379651
BBC sent Ye Myint a link to download the audio file (MP3).
Daw Win Mar's Health
Update by Dr. Ye Myint

I have spoken to ward sister. Later, her chest physician rang me back and we discussed more details. Ma Win Mar is stable. Still needs O2 and they will try to reduce O2 over the weekend. No fever for 2 days. If stable, they will consider to discharge her.
April 23, 2020
Dr. Khin Sabai sent a link to "The Reading Chronicle" (Hometown newspaper of Peter). The following is an excerpt from the newspaper.
Tributes for Royal Berkshire Hospital doctor who died after contracting Covid-19 pour in
By Tevye Markson @TevyeMarksonLDR Local Democracy Reporter
Coronavirus
Dr Peter Tun passed away on Monday, April 13 after contracting Covid-19
From U Tin Htoon (Peter's uncle)
Since you have compiled nicely about Peter Khin Tun, I am forwarding Min Ko's follow up with The Guardian, which illustrated more that we shouldn't have lost Peter simply because of lack of action by the hospital authorities.

With Boundless Metta,
Tin Htoon

https://www.theguardian.com/society/2020/apr/23/emails-reveal-doctors-plea-for-ppe-before-covid-19-death-dr-peter-tun
From Dr. Ye Myint (Peter's brother)
Win Mar is still in hospital, but she is recuperating. Per Dr. Ye Myint, "Antibiotic treatment has been stopped. Less sick. Can eat more today."
Ye Myint was busy as the main contact with the ICU specialists when Peter was hospitalized. He is now busy providing support (moral, financial) to his two nephews and is coordinating the support from relatives in Myanmar, Australia, USA and UK.
Many are praying for Win Mar to recover fully and to be discharged from the hospital soon.
Friends and relatives performed Dana for Peter in Myanmar, Australia and UK.
Several (e.g. Daw Betty and extended family; Dr. Myo Tint, Daw Margaret CT and extended family) donated for the medical expenses and Peter's Last Journey.
April 22, 2020
Relatives
Peter's father U Tin U is the eldest of nine siblings.
Peter's mother Dr. Khin Kyi Nyunt (Cherry Tin Gyi, GBNF) is the youngest of nine siblings.
Peter is the eldest of three siblings.
U Tin Htoon is Peter's paternal uncle.
U Tin Tun is Peter's brother-in-law.
Dr. Ye Myint (Peter's brother) wrote :
We donated £100 to SHEFFIELD Monastery and £50 to Manchester Monastery (fund will be sent to Myanmar to fight against COVID).
I will write my tributes for Ko Ko soon
Aye Aye Khin (Peter's sister) wrote :
Listen to sayardaw u thaw bi ta's Tayar.
You can hear $ donation of
Tina / Dr. Win Marla (Aunty Olga's daughter);
Kyi Kyi Han (Aunty Icy's daughter)
& Maung Maung Tin (Aunty Olga's son).
and also Thingan and Nawkama
by Cho Cho Hlaing (aunt)
Aye Aye Khin (sister), Ko Tin Tun and daughters
5 Thingun donate from (Ko Tin Tun's cousin) Susi Sein; Ohnmar Sein & Sayarlay Nwe Ni Sein
San San Aye's suggestion
San San Aye (spouse of Dr. Ye Myint) suggested close relatives to provide moral and financial support to Min Ko (Michael Tun) and Ye Lay (Will Tun) who unexpectedly lost their father and are taking care of their mother (stable but still in hospital). Due to the pandemic, they could not stay at their parent's house and could not see the parents for a long time. They were allowed to see Peter (whose health had deteriorated) for thirty minutes, and sadly again moments before Peter passed away.
They have to arrange for Peter's final journey on April 30, 2020 and also try to handle legal papers and procedures with lawyers and insurance companies. They did not ask for help, but San San Aye felt that the relatives could collectively support them and alleviate some of their burden.
April 21, 2020
Win Mar (spouse) is stable. Her appetite has returned. Her condition is improving.
Collective Dana at Tisarana Vihara (UK)
for Dr. Khin Tun (Peter), U Soe Win Tin and U Win Thaw Win
All died from COVID-19 infection
April 20, 2020
Win Mar (spouse) was moved to the Chest Ward. She is stable.
Dr. Ye Myint (brother), San San Aye and Jess Myint offered soon at the monastery in Sheffield, UK on April 14, 2020. They offered requisites at the monastery on April 20, 2020.
Dr. Sein Sein Aye (cousin of Peter's father) donated $100 to Ashin Zanita (in Australia) in memory of Peter.
Several monasteries (e.g. TMC, Kusalakari), sayadaws (e.g. Ashin Zanita) and dhamma web sites (e.g. dhammadownload.com) share their dhamma talks and chanting on-line (e.g. using Zoom).
April 19, 2020
Sad Moments from Thingyan
Many years ago, we lost two relatives — Uncle U Than Lwin (Eric) and Daw Mya Mya (cousin) — during Thingyan. The festive mood at the Thingyan Pandal turned somber.
On April 13, 2020 (in UK), we lost another relative :
Peter Tin U / Khin Tun / Peter Tun
Memories by Prudence (daughter-in-law)
Goodbye Dr Peter Tun

It was an honour to know you.

There will never be the right words but thank you for your kindness, good humour and your selfless acts of service. I will remember your great story telling, you telling me the recipes of your favourite dishes, planting flowers in your garden together In Reading and how beloved and respected you were by so many different people. Your spirit is already in both of your sons and it will continue to live on through them.

Here we are 8.5 weeks ago in NZ during our Buddhist wedding ceremony where you stood by our side and celebrated with us and now we will celebrate you and will ensure that your legacy lives on 🖤
Correction by Dr. Ruby (Aunt)
You are doing a good job informing the public about Peter. However may I just correct you. Peter did not visit Australia, as you mentioned. His sense of duty was such that he didn't take extra leave to attend his son's wedding, as he said that he was needed at the hospital as junior doctors took leave because of personal reasons. He always made sacrifices to give others chances.
Maung Khyne Soe (Peter's cousin)
Hello Uncle,

Here is a link from a Burmese media website with regards to Peter Koe.
https://dnaekhitnews.com/archives/471?fbclid=IwAR2jw3S0Z9mYuDNnhxFrDxIycE_8gp7p7CXWDmGQbsNeyDw7y4_z3sqeENM
Regards,
Mg Khyne Soe
Dana by Aye Aye Khin (sister) and Dr. Ye Myint (brother)
On behalf of Peter's family, Aye Aye Khin (sister) offered requisites to Sayadaw U Thawbita (Chan Myei) in Yangon.
Offerings were also made by U Ba Than (uncle) and Daw Mya Mya (GBNF), Ye Than (cousin) and family, U Myo Myint and Daw Tin Tin Win, Dr. Khin Win Myint, Aung Thu and Khin Myat Naing, Myo Tin and Dr. Khine Zin Oo.
Dr. Ye Myint (brother) and family offered soon at the monastery in Sheffield, UK on April 14, 2020. They will offer requisites at the monastery on April 20, 2020.
Dana by Peter's Cousins in Australia
Daw Ohnmar Khin, Daw Yee Yee Myint, U Thet Tun and Daw Yin Yin May offered Mohinga Soon and requisites to the two monks at Asoka monastery in Sydney, Australia.
BBC Burmese Interview
Dr. Khin Sabai (family friend) shared the post on BBC Burmese Interview by Ye Myint in Facebook page "Fun with Learning" administered by me. I shared the post to several FB pages where I am Admin, Moderator or founding member.
April 18, 2020
Latest update
BBC Burmese broadcast the interview with Dr. Ye Myint (brother).
Dr. Khin Sabai shared the link below with the comment "So saddened (without any fun ) in sharing , this}. RIP
https://www.facebook.com/groups/165195111378929/permalink/222251299006643/
Earlier update
There were reports in the UK newspapers about shortage of equipment provided by NHS. One report said that a Urologist died after pleading for the lack of PPE. Another report said that some managers will quit if the NHS cannot provide adequate equipment to the hospitals and staff.
U Tin U (father) was upset for 3 days. He no longer goes out to the front lawn in the evenings. He said that he is trying to minimize the attachments.
Friends of Ye Myint (Peter's brother) offered soon for Peter for three days. The monks recited suttas and shared merits. Friends were invited to listen to the live broadcast.
Ye Myint was contacted to give two interviews : one for BBC Burmese and one in English for BBC.
BBC Burmese interview
https://www.facebook.com/groups/165195111378929/permalink/222251299006643/
Received messages which said that
Peter was nice, sweet, smart and helpful
He treated his patients with love and care
His relatives and friends benefited from his medical advice and/or treatment
He will be missed by all.
April 17, 2020
The following are some updates to my earlier post :
Vicky Bowman's Post
Thanks to Dr. Richard Yu Khin for mentioning about the post

BBC's corrected news
Thanks to Min Ko

Media coverage in UK
e.g. Daily Mail, the Sun
There are articles which mention that NHS workers should be collectively awarded the George Cross Medal for gallantry (the second highest medal in the UK after Victoria Cross)
NHS heroes should be awarded the George Cross medal for gallantry – including those who made the ultimate sacrifice
It is difficult if not impossible to report the thousands of comments / memories made on the posts by Min Ko, Ye Lay, Ye Myint, Jess Myint, Aye Aye Khin, Thin Thiri, Khin Sandy Tun, Ma Toni Than, Ma Ohnmar Khin and several cousins.
Many posts have been shared by the readers.

Offering of requisites were made to selected monasteries in UK and Myanmar.
Peter Tun was a Hero
Could his life been saved?
Several countries underestimated the deadly COVID-19 virus. Some did not believe that it would cause Pandemic with disastrous consequences. Some did not have plans (e.g. storage and distribution of medical equipment). Some do not have the resources (e.g. PPE and test kits). Some acted too late.
The following is a collection of posts and memories / tributes to Dr. Peter Tun who gave his life in the line of duty and was honored as a Hero.

Could the untimely demise of Peter have been prevented with proper planning and management (e.g. measures for the safety of front line personnel, and rational allocation of PPE)?
_______________________________________________________________
Michael Tun's sad thoughts
_______________________________________________________________
My dad Dr Peter Tun died from COVID19 because of the lack of PPE.
My hope in writing this is that it will save more doctors and nurses lives and avoid pain for their families. My dad would have wanted to speak up if he thought it would save lives.
I spoke to my dad the day that he found out there was someone who was positive for COVID19 in his ward. My dad told me that he had earlier complained to a manager because they took PPE away from his ward to take somewhere else. He was told that if there was a case, they would bring it back. He had replied that it would be TOO LATE. The last he told me, there were 4 more positive patients with no symptoms. 2 weeks later, my dad passed away and I couldn't do anything.
Please do everything to protect the doctors and nurses. They go in scared for themselves and their families. They did not get into the profession to die a hero in battle. This is why he was a superhero to us. He was scared and still went in to help strangers completely knowing the risk. The pain for the families is unbearable. He was afraid that he would give this to my mum and now she is in hospital also waiting for her test results. The thought that if only he had had a proper protective mask, he might still have been able to enjoy his hard earned retirement after a lifetime of service just kills me.
I hope this won't cause distress or take attention away from the need to help people but we need to also protect the people trying to protect us. We couldn't protect my dad so I want to help protect everyone else who is in the same position that he was. Thank you for everything to all the heroes. ‬❤️
_______________________________________________________________
Jess Myint's post after Peter's health deteriorated
_______________________________________________________________
My Uncle Peter has been on a ventilator for four days after testing positive for COVID-19 2 weeks ago. He seemed to be coping well in the first week and he kept sending me pictures as reassurance. But things rapidly progressed and he was unreachable not replying back or answering calls which was very unlike him for 2 days. He was admitted to ICU and was initially stable on the ventilator but his condition has unfortunately deteriorated last night. There are many pleas but it is scary what this virus has done to people and families worldwide so please everyone take things seriously and do whatever you can to help minimize the spread of this virus any further.

Think of the doctors, nurses and NHS workers, like my Uncle that have put their lives at risk to help others and do their duty of care, even when they have not had the appropriate PPE.

Healthcare workers and anyone showing any symptoms, even mild symptoms, please isolate and do not put others at risk as they may not recover from this.

Feel so sorry and helpless for my Uncle, Aunty and cousins, who are constantly in our thoughts. I'm hoping with everyone's prayers, Uncle's kindness, good deeds, and Uncle's fighting spirit he will pull through.
Please come back to us Uncle Peter.
____________________________________________________________________________________


Sad News

Dr. Khin Tun (Peter Tin U), MRCP and Former Associate Dean of Oxford University succumbed to the COVID-19 infection at the hospital in UK.
He is GBNF (Gone But Not Forgotten). Hundreds of people prayed for his recovery. Many more sent condolences after his untimely demise (due to the lack of PPE).
Peter is the eldest son of U Tin U (my cousin) and Dr. Daw Khin Kyi Nyunt (Cherry Tin Gyi, who passed away a few months ago).
Spouse : Win Mar
Sons : Min Ko (Michael Tun) and Ye Lay (Will Tun)
Siblings : Aye Aye Khin, Dr. Ye Myint
May he rest in peace.
Some Dates

January 1958
Like his grandfather and father, Peter became the Eldest Son in his family.
1973
Matriculated from St. Augustine's High School.
Admitted to the Institute of Medicine (1).
1980s
Received MBBS in 1981.
Worked for Rangoon Children Hospital and Dr. Thane Oke Kyaw Myint (Pediatrician).
Collected and analyzed data for projects including Perinatal Survey with his colleagues (e.g. Dr. Pe Thet Khin)
Found Win Mar, a beautiful school teacher, as his love life.
Moved to Mezali Gone and did private practice (often receiving little or no money from cash-strapped patients).
1990s
Some friends suggested Peter to study for MRCP in the UK.
Moved to UK in 1994.
2000s
Worked for Royal Berkeley Hospital
Promoted to Associate Specialist for Neuro and Rehabilitation
Served as Associate Dean of Oxford University
Details of Peter's life is recorded in the Photo Album for his father's 90th Birthday Celebrations. The URL is provided by his uncle U Tin Htoon
https://www.blurb.com/books/9536015-u-tin-u-s-life-time-achievements-over-90-remarkabl
September 2017
In September 2017, he and Win Mar hosted us. Both cooked delicious meals every day. They showed us around. They drove us to Wales to see my high school friend Maung Maung Kyi.
2019
U Tin U (Peter's father) celebrated his 90th Birthday.
Dr. Daw Khin Nyunt (Peter's mother) passed away a few months before her 89th Birthday.
February 2020
Peter and family went to New Zealand to celebrate Min Ko's birthday and wedding.
Ye Myint and family stopped over in Sydney, Australia to have gatherings with the relatives.
Peter skipped the visit to Australia, because he wanted to be back at the hospital and enable his junior staff members to take leave.
March 2020
On March 25, 2020, he said there were COVID-19 cases in London and Birmingham but not much in Reading. He showered twice daily as a precaution.
He said he was elated with his trip to NZ in February 2020. He enjoyed entertaining his aunt (Dr. Ruby) and his uncle (U Tin Htoon). He mentioned that his father (U Tin U) might finally have a Great Grandchild.
April 2020
Peter got infected with COVID-19 from one of his patients.
Five of his patients tested positive.
He was hospitalized.
His health deteriorated.
Hundreds of people prayed for his recovery.
On Easter Monday, he passed away.
_______________________________________________
Memories of Peter
_______________________________________________
by Min Ko (Michael Tun), elder son
______________________________________________________________________________
by Ye Lay (Will Tun), younger son
To my father who passed away peacefully on easter monday, 13.04.20. Tested positive for coronavirus after contact with 5 infected patients he was treating in the NeuroRehab ward in Royal Berkshire Hospital.
My dad spent his earlier days riding around a jeep in Burma with mum, treating thousands of patients, asking them to only pay for what they can afford. Just before I was born, he built from the ground up, brick by brick a new house for the family – who does that??.
He brought over the family to England in 1994 so that my brother and I could have more opportunities in life. He took great pride in his work as a doctor and genuinely enjoyed helping his patients as if they were family. He had a big heart. Loved gardening, cooking, eating, especially eating, painting watercolours of scenes from Burma. He was a devout Buddhist too.
I'll miss you lots dad. Thanks for being so down to earth and grounded – and for putting up with me coming home with a mohawk that time.
by Jessica Myint, niece
Dr. Peter Khin Tun forever missed never forgotten
Uncle Peter passed away on Monday 13th April at 10.43pm after testing positive for COVID-19 2 weeks ago and seeing patients without the appropriate PPE. His death has shocked us all as it happened so suddenly. I write this whilst fighting back the tears to stay strong.
He was like a second father to me and I was so happy when he came to the UK in 1994 and lived with us. As a child I struggled to sleep in the dark and when I couldn't sleep I would go out and to my delight the light in Uncle Peter's room was usually on. He then reassured me and taught me ways to help me sleep at night but it was just nice to know he was there if I needed him, like a security blanket. I think that's how he made most people feel, like he was always there for them. He was truly loved by so many.
I remember walking with him to the post office regularly and the first time we went he was talking rather loudly to the lady behind the glass before I pointed out the mic. He would then buy me a kinder egg for accompanying him but I always enjoyed being in his company.
The world seems a darker place without him. He was so kind, so generous, and so knowledgeable literally like a walking encyclopedia. He was always one you could count on for giving help and advice no matter what your problem was. He was jolly, knew how to have fun and always saw the positive in life.

He loved cooking with and endless array of recipes. He also had a passion for gardening, painting, music, meditation and appreciating the beauty of this world. We will continue to live by his example.
He will be missed by so many family, friends, colleagues and patients.
I will miss our chats, his daily posts of the dishes he cooked, his humour, his smile. But mostly I will miss him.
Gone too soon Uncle Peter. Thank you for everything and all your good deeds. Love you and may you rest in peace.
by Khin Sandy Tun (Niece)
Baba peter called everyday to check my father's health. Missing his calls and treatment advice. May all the sufferings be free to everyone during this pandemic.
by Dr. Thane Oke Kyaw Myint, mentor at RCH
PETER KHIN TUN: passed away this morning
Up till now, I had written obituaries of my teachers. And I know that when I should pass away someone may write my obituary.
I never thought I would have to write about a former student Peter Khin Tun.
Since I was informed about Peter was hospitalised, Maung Maung (Ye Myint) kindly giving me updates about Peter twice a day.
Peter did stayed on, progressively getting worse. Mg Mg contacted the hospital every day to discuss on management, his advice on treatment and investigations were followed to the letter. But Peter got worse and was finally decided to stop treatment and Peter passed away.
Unlike even his school and college friends, my contact was with the many members of his large family since I was five years old at my time becoming a novice first time and stayed at the monastery and the pagodas donated by his family.
I became close to his uncles and aunts. Some even became my students in med school.
Two of Peter's grand uncles were barristers and worked in the same law firm as my father.
There are more connections when I became a Pediatrician to the children of his family.
Peter's uncle Ko Myo Min, a pioneer on and setting up the Universities Computer Center Our attachments to one another were enhanced because we had collaboration with UCC on a a WHO project
In another WHO funded project, there were only four research officers: two for Hlegu and two for Hmawbi, Peter Khin Tun and Pe Thet Khin for Hlegu and Khun Aung and Ko Ko Zaw. for Hmawbi.
All four accepted my offered pay: 350 kyats and CLA. And they did excellent work on collecting data and information of health delivery to mothers and children.in villages
Peter's strength during the time was to do analysis of the findings and another was his enjoyment of food.
Over the next three years and we were collecting and doing analysis of data.
All four visited every village big or small covering the the population of Hmawbi and Hlegu
Before we write the report, we had to start analysing what we had in RCH was my 1MB Sinclair "hand held computer" which I had brought back from UK
We had a cohort over 500 mothers.
The main issue was whether we could find risks before risk might happen
Peter and I we would do the Estimated vs Actual Risk in the cohort.
There were 903 risks factors given to us we were to analyze. Peter took on the calculations: first we calculate on the "hand held computer". When each result came, we had to connect to Saya U Tin U's old television to see the results (as we have no monitor nor a printer and he had to write down by hand the results for each women and each risk:
500 x 109 = 54,500 calculations by hand mostly by Peter and Pe Thet Khin
This was a daunting task yet Peter and his friends made it, later the report came out.
Of course in our report we shamelessly wrote the analysis was done by computer.
It was Peter who did most the calculations.
Working very closer with him, it was so good as I was working with him.Peter was so simple and humble. Completed any tasks asked of him. He was very competent and finished his commitments fully.
My load of work in the project was made lighter by the four of them. Unlike the previous project, I could put less time as unlike the previous project I was then in charge of Unit 3 by then, leaving most of the project to them.
And Peter and his friends came out tops.
On a personal note I go back to my family every year. The ritual was May Mya Sein. and Ma Ma Josie's three daughters. Daw May never failed to pick Peter up as she would loads of food: Chinese, Indian, Burmese traditional food.
I teased Peter that his eyes sparkle when the food was laid out. The choice always was each of us to select one type of food only. but my lovable student looked with sparkle in his eyes. Yes we had to allow to eat all and any food we had. This has become a ritual for many years. I felt sad that because of my illness I could not invite him the breakfast
How was I to know Peter would leave the world before me
From UK Peter sends notes and messages. Most were about food, either cooked by him or food given with friends.
0nce he sent me a photo of he standing in on that occasion, he replied he had managed to make 43 different sausages.
Most photos on weekends would be cooked food or food to be cooked. With Peter with a smile on his face he might be at home, at work in UK he was respected by his colleagues.
He made breakthrough research in his field of neuro and rehab. There is a photo of him. explaining to Queen Elizabeth.
Without saying any thing what he might had done, Peter was a member of various activities at the Deanery of the Royal College of Physicians London.
The most loving thing about was simple and being open. i love him talk to me. It would never "I" but always as "Peter.
e.g " Peter have already finished what you assign me"
"Peter has already finished breakfast"
"Saya, Peter will.now go and see PTK"
i miss him not only because he was my student but will miss him as my beloved nephew.
Peter Tun REST IN PEACE
by U Tin Htoon, uncle
I have read most of the emails and postings on the Face Book and came across countless messages expressing their deepest sympathy for the untimely loss of my dear beloved nephew Dr. Peter Khin Tun. It came as a sudden shock to all of us and simply couldn't accept that sad news.

There is a saying that "a picture is worth a thousand words" and fortunately I managed to do a photo album book for my beloved brother U Tin U's 90th Birthday, which happens to be Peter's father. This book illustrates some of Peter's life from the time he was born, got graduated, married and raised his lovely family in UK and wish to share with you all as a way of paying "TRIBUTE to PETER."

I have added some of Min Ko's wedding which took place on Feb. 15th at New Zealand to add to this photo album.
https://www.blurb.com/books/9536015-u-tin-u-s-life-time-achievements-over-90-remarkabl
by Daw Ohnmar Khin, cousin
The hero of NHS, UK who gave up his life for his patients, who unreservedly spread his loving kindness to all.

This is Dr Peter Tun, grandson of U Tin Gyi (OBE) & Daw Khin Khin Gyi (Commissioner of Co-operatives, British Burma), beloved son of U Tin U (Civil Engineer, Clark & Grieg, Interkiln) & Dr Daw Khin Kyi Nyunt (Cherry Tin Gyi), beloved husband of Daw Win Mar, & beloved father of Michael Tun & William Tun, beloved brother of Daw Aye Aye Khin (Yangon Airways) & Dr Ye Myint (Intensive Care Specialist, Sheffield Hospital, UK) & beloved cousin & Hero of U Tin Gyi family of 29 first cousins.

May you RIP and reap the rewards of all your good & kind deeds as you move on in this circle of life & death.
Dear Uncle U Tin Htoon
Thanks so much for the lovely photos of our dearly beloved Peter. They are lovely and certainly is a tribute to such a wonderful & special person that he is. There will always be a big void in our lives as he has touched us all with his loving kindness, compassion & jolly good nature. I will miss him so much.
by Daw Toni Than (Toni Khine), cousin
To all my Family, Friends and Former students,

Thank you for your words of sympathy and condolences at the time of our grief and sorrow. I'm the eldest of the Tin Gyi cousins and I'm finding it hard to come to terms that someone so young has been taken from us so tragically. Your words and expressions have brought comfort and solace to our sorrow but the loss will be with us always. Thank you again. May Peter Rest in Peace.
In my grief, I turned to making 'mont-lone-ye-paw', just for the altar and as 'da-na' for Peter. Peter yay, ah-hmya, ah-hmya, ah-hmya.
Earlier Post
Dear Win Mar, Min Ko & Prudence, Ye Lay. Uncle Swee, Mg Ye Myint & family, Aye Aye Khin & family,
It has come as a shock to us although it was expected. We were just hoping our prayers would be answered. He was always so kind, helpful and 'level headed' too. He was so calm when we were so agitated. I still find it hard to grasp that he is no more with us. My deepest condolences to all of you. Rest in Peace, Peter.
Dr. Ruby, aunt :
How very true, that's the spirit we share in accepting the great loss of our beloved Peter.
______________________________________________________________________________
by Vicky Bowman, former UK Ambassador to Myanmar
Another foreign born NHS worker died of CoViD yesterday, in Royal Berkshire Hospital in Reading, where he worked as a rehab specialist, adding to the toll.
But more importantly, Dr Peter Khin Tun was once the much loved doctor of the cooperative medical clinic in Mezaligon, Htein Lin's village. He was particularly known for deworming any patient who crossed the threshold of the clinic for whatever reason.
Worms in Myanmar are 'than', သန်. Peter became known locally in Mezaligon as the than-amat သန်အမတ် (amat means high official, and than-amat is an Ambassador).
He married local school teacher-cum-nurse Ma Win Mar. We feel so sad for her and their two sons.
In the post I have shared you can see him and Win Mar showing my sister in law Hla Hla Htay, around Windsor. She was doubtless dewormed at some point by him, before she followed in Win Mar's footsteps and became a teacher in the village.
______________________________________________________________________________
by BBC (UK) based on the report provided by the hospital
Sad to note that in the initial broadcast, there was no mention that Peter became a victim of COVID-19 in the line of duty (treating his patients).
However, the later broadcast added about "Peter being tested positive for COVID-19)".
Dr Peter Tun, 62, worked as an associate specialist in neurorehabilitation
The father-of-two worked at the Royal Berkshire Hospital for more than 21 years
Dr Tun passed away in intensive care unit at the hospital in Reading on Monday
To all of us on the neurorehabilitation unit at the Royal Berkshire Hospital he wasn't just a colleague; he was a mentor, a father, and a friend.'Dr Tun, who came to the UK from Burma in 1994, was promoted to associate specialist in 2004, and was a member and contributor to the British Society of Rehabilitation Medicine. Professor Christine Collin, who worked alongside Dr Tun at the hospital for 12 years, called him an 'unfailingly kind, caring and gentle' man who was 'much loved and respected' by both patients and colleagues. 'Peter had the necessary compassion, respect and knowledge to help support the clinical needs of people with severe neurological disability, and had the useful attribute of always presenting a smiling face to the world,' she said. 'His family were his main joy in life, but he was also a talented artist, and could produce beautiful water colours of his homeland.'Steve McManus, chief executive of the Royal Berkshire NHS Foundation Trust, said: 'The passing of Peter has sent a wave of grief throughout the entire organisation. 'Tributes have been pouring in from staff who have worked with Peter over the years and he will be sorely missed. 'On behalf of the Royal Berkshire NHS Foundation Trust, we extend our sincere condolences to Peter's family, friends and colleagues…
From the Myanmar Ambassador in UK
From the Nationalities of the Union of Myanmar Association – UK
Peter's Hobbies

Family History
He blogged about his ancestors starting with his maternal Great Grand father (who studied at Oxford), his Grand father, Parents, siblings and a huge array of cousins.
Gourmet Food
He is a culinary expert. He collected recipes that he learned from his mother and relatives (Grand uncles, Grand aunts, …).
Painting
His expertise includes Painting with Water Color.
Meditation
He started meditating at Chan Myay since his school days. He offered requisites to sayadaws for the two birthdays in January (his and his mom).
Thin Thiri (niece) wrote :
My uncle Dr Peter Khin Tun passed away peacefully on 14th April today. He was a role model for my mother and uncle. They have become interested in meditation after listening his experiences. My mother has benefited a lot from his guidance and advice during her retreat. I am very grateful that these teachings are now being passed down to us. He shared this meditation instruction to listen during my father's illness. I would like to thank everyone who wished for him. May he attain Nirvana.
________________________________________________________________________________________
Gone But Not Forgotten
Peter passed away on April 13, 2020
I relayed the news via e-mail and Facebook pages.
Per request from Dr. Myo Tint (Peter's uncle), I posted an initial version on April 15, 2020.
I have updated the post several times.
Sincerely hope that there will be vaccine and cure for this dreadful COVID-19.
P-E-T-E-R
P Peter (NHS Hero) paid a high price for misguided policies and guidelines
E Envisioned retirement to spend quality time with his extended family
T Talented Doctor, Gourmet Chef, Sketch and Oil Painter — to name a few
E Educated and/or entertained aspiring medical specialists far and near
R Real irreparable loss to patients, friends, family and community
P Pote Pote Kyee (see "Cho Cho Hlaing")
E Enthusiastic learner and practitioner (see "Aung Jee")
T Took care of parents of relatives, patients and friends (see "Min Ko")
E Ever smiling and helpful (see "Ye Myint")
R Rural doctor with a huge heart (see "Vicky Bowman)