Dr. Daw "Ruby" Win Hlaing (Peter's paternal aunt)
Obituary by Will Tun (Ye Lay, Peter's younger son)
Thin Thiri Tun (Peter's niece)
Dr. Daw "Ruby" Win Hlaing, aunt
My children were very young on their first visit to the family and they came home full of praise for their Peter Ko who was their super hero. Just one more aspect of Peter's talents in association with people of all walks of life.
I met Peter very much later as I was banned for 28 years to return to Burma. When I met him in London I told him how important it is to wear comfortable shoes and bought him his first pair of shoes from Clark's,which he told me lasted 3 years.
In the following years we visited Peter and family often.

On many occasions we met at family gatherings in Yangon, the last to celebrate his father's 90th birthday in August 2019. Not only on this his last visit but in all the previous years Peter's devotion to his mother was unconditional. It impressed me enormously that he would prepare breakfast for his mother at 6 in the morning … and it was a cooked breakfast! He took great pleasure in watching his mother eat with appetite and gaining strength. That was Peter,who loved his mother beyond words.

Peter was good at organising too. We shared a memorable visit to the London Chelsea Flower show in 2018 at the invitation of Kim and Dave. At my request Peter organised and dealt with all the formalities which was required. He hit a jack pot as he managed to get free entrance for Kim and Dave as attendants to two wheelchair users, because I needed one and he decided also that he needed one too. He used actually to wheel around his backpack etc. So, we paid only for two for four!

On that trip, WinMar and Peter drove me to my friend In Nayland. I invited them to stay at an Inn,which Peter thoroughly enjoyed,breakfasting in the garden reading a newspaper, etc.
On bidding farewell to us, WinMar and Peter paid respects ..Kadaw de …not only to me but to my German friend Ursula,who remembers them fondly.They left a joyous impression.
The last chapter ends with our unforgettable trip to New Zealand to celebrate Prudence and Minko's wedding on 15th. February 2020. Peter invited me to stay with them at the luxurious apartment at the Trinity Wharf Hotel, Tauranga,which Tin KyiWin had rented but could not make the trip. It was a home away from home as Peter thoroughly enjoyed the facilities. On the morning of our departure Peter prepared mushroom omelet as usual and ate my share, which I kindly refused, with relish. I think he just enjoyed food always.
Peter brought the thread and needles needed to make the garland for the bridal pair from Reading and I helped him to make the garland,which he patiently threaded. So that was his personal touch for the ceremony.
I regret that Peter never found the time to visit us in Germany. There was so much I wanted to show him and share. He would have appreciated my collection of antique books on Burma. I even thought of giving him the books one day.

Peter gave me one of his water colour paintings.

Peter as we all know was a most devoted,self sacrificing son,a loving and caring husband and father and a man who practised what he believed … above all Metta, loving kindness.
Peter, a man of kaleidescopic characters who enriched the lives of all the people who were fortunate to meet him.
A gifted healer and a prophet. His prophetic words were not heard
and heeded,which tragically costed him his life. A great great loss. His life was not in vain.
Dr Peter Tun obituary
The following Obituary appeared in the Guardian (UK Newspaper) on May 15, 2020.
Dr Peter Tun obituary
Will Tun (Ye Lay)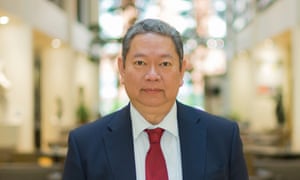 Peter Tun moved to Britain in 1994 from Burma, where he had worked as a GP in rural villages
My father, Dr Peter Tun, who has died aged 62 of Covid-19, travelled in 1994 from his native Burma (now Myanmar) to Britain to work as a doctor in the NHS. His career took him into the training of doctors, and eventually earned him the role of associate postgraduate dean (2012-16) at Oxford Deanery training centre, which prepares medical graduates for their first NHS jobs.
Much loved by his colleagues, he had expertise in a wide range of areas, from diseases related to stroke, brain and spinal injuries to muscle spasticity management, the benefits of medicinal marijuana, nutritional rehabilitation and mindfulness therapy.
Peter was born in Yangon, in Burma (now Myanmar), the eldest son of U Tin U and Cheery Tin Gyi. He won a scholarship to study medicine at the University of Yangon and as a young freshman enjoyed participating in shot put and discus-throwing tournaments. After graduating in 1981, he started as a research medical officer for a WHO-sponsored project on maternal and child healthcare. From 1985 to 1994 he worked as a GP across the villages of the Ayeyarwady Delta.
He had fond memories of riding around in a jeep through many villages, helping to heal the sick and asking his patients only to pay what they could afford. He was an advocate for providing education as a tool to transform the lives of the communities he served.
During this time he met his future wife, Daw Win Mar. They would go on to have two sons, Minko (my brother Michael) and Ye Aung (me). As a testament to his tenacity, Peter decided to build a new home from the ground up for his family. That house still stands with a back garden full of banana trees beneath a hot tropical sun.
Peter brought his family to the UK in 1994. We lived in Pontefract, West Yorkshire, before moving to London, where in 1997 Peter became a member of the Royal College of Physicians and the British Society of Rehabilitation Medicine.
Our family finally settled in Reading, in a home filled with joy. Peter loved gardening, cooking, barbecues, sharing recipes, the Beatles and painting watercolours of pagodas and scenes from Burma.
A devout Buddhist who enjoyed meditation, he had practised intensive Vipassana meditation under the Venerable Ashin Janakabhivamsa when he was a second-year medical student in Burma. He recalled those moments of spiritual practice as one of the most precious times of his life.
He is survived by Daw Win Mar and his children.
Thin Thiri Tun
Uncle Peter was our role model — someone who we always admired and looked up to. He was knowledgeable, kind, passionate and helpful to everyone around him near and far.
My mother always valued uncle Peter's advices, memories and shared with us. Some of them are during his younger days in Vipassana meditation practice under the guidance of Chan Myay Sayadaw, Venerable U Janakabhivamsa. He went to meditation retreat to follow his friend but eventually he became deeply interested. He would go and find his teacher Sayadaw even at midnight when he had questions. Sayadaw praised later that he was one of the Yogi students who progressed very quickly. He also volunteered to carry very heavy items for building construction in the retreat compound. He managed to carry them easily with mindfulness.
He also had a very good memory. After listening once to a dhamma talk, he can explain it to others from beginning to end.
He told me that we don't have to wait for our free time to practice mindfulness. He mentioned that he was always practicing even in a few minutes while waiting for the lift to arrive. He said he also spent time to radiate loving kindness to living beings every day.
Uncle Peter was giving not only medical advices but also dhamma advices to us since my father fell ill. I have the deepest gratitude to uncle Peter for all the things.
Sayadaw U Ottara Nyana mentioned during one month remembrance offerings that Uncle Peter is definitely in a better life now. It is like leaving behind the clay pot and getting a golden pot. May he attain Nibbana.